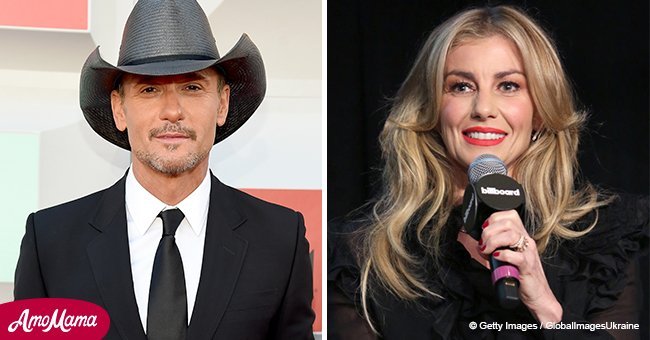 Tim McGraw and Faith Hill are the proud parents of 3 daughters. Meet their kids
One of the biggest power couples, they have stuck with each other through their ups and downs.
Tim McGraw and Faith Hill have been married for over 20 years and have a beautiful family that includes their three daughters.
They are loved for their music. Their duets such as, Let's Make Love, and Like We Never Loved At All, have also earned them Grammy Awards.
Their first joint album, The Rest of Our Life, and their Soul2Soul World Tour were both well received by the audience. The couple was nominated for Vocal Duo of the Year at the 2018 Academy of Country Music Awards.
During their 22 years of marriage, the country music superstars have also created a loving family.
McGraw and Hill first met each other at the New Faces Show in Nashville in 1994. However, they got together only after they went on a joint tour in 1996. The two tied the knot later that year.
They welcomed their first daughter, Gracie Katherine, in 1997, their second daughter, Maggie Elizabeth, in 1998, and their third daughter, Audrey Caroline, in 2001.
Here are five lesser-known things about their three daughters.
The protective parents
Some parents post photos and videos of their children on social media, while a few other parents never do so. McGraw and Hill are the ones who never do.
The couple worked hard to keep them out of the limelight as they were growing up.
Now that the girls are all grown up, they enjoy posting throwback photos of their children on social media.
Like parents, like daughters
50-year-old Hill has maintained that her daughters can sing. However, the parents insist that they would want the girls to have a good work ethic.
Speaking to New Beauty in 2017, Hill said she believes in hard work and it is a quality she has instilled in her daughters. She has told them that nothing is handed to them on a silver platter.
One daughter has sung publicly
Though the parents love their daughters' voices, only their eldest daughter has sung in front of a huge crowd.
The 21-year-old Gracie has accompanied her father on stage for duets. She also learned to play the guitar when she was in high school.
However, she did not learn to play from her famous father. She taught herself and did not even tell her parents while she was learning.
Hill's lookalike
The couple's middle daughter, Maggie, is a copy of her mother. The 19-year-old Maggie's middle name is Elizabeth, but her father lovingly calls her "Maggie May."
Maggie's passion
She does not seem to share her parents' passion for music, instead, she is interested in marine biology.
McGraw told Country Countdown USA that she has always been interested in the ocean and "her primary interest is marine biology."
Please fill in your e-mail so we can share with you our top stories!