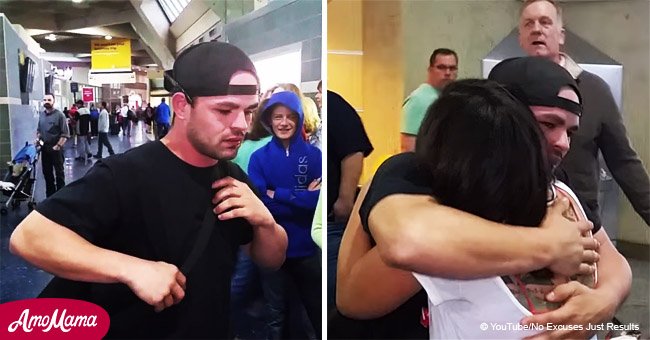 Father gets best pregnancy news surprise from his wife and boys
Michael Mitchell couldn't wait to see his family again after a tiresome trip having no idea that he was in for a big surprise. His wife and kids were wearing customized shirts that announced the happy news.
When Mitchell walked into the airport from his flight, his family was there waiting to welcome him and they had an important announcement for him. He was very touched to see his wife and two young children, and they were as excited as him.
He gave each one of them a warm hug before his wife asked him to read what was written in the back of the shirt of his youngest child, which said 'I'm being promoted to big brother'.
Mitchell, who was clearly very tired from the flight and suffering from jet-lag, didn't understand what that was about and after reading the words aloud said simply: 'Awesome!'
Still unaware of what his dear ones were trying to tell him, Mitchell went on greeting all those who also came to receive him. It seemed like the surprise was ruined when he suddenly saw a message written in his wife's shirt.
This time he really got what his family was trying to communicate him in such a creative way. Once he realized that he and his wife were going to be parents of a third child, he just froze.
Having a new baby, even when you already have two other children, is a life-changing event, and there's no wonder that Mitchell was shocked to learn this in that way.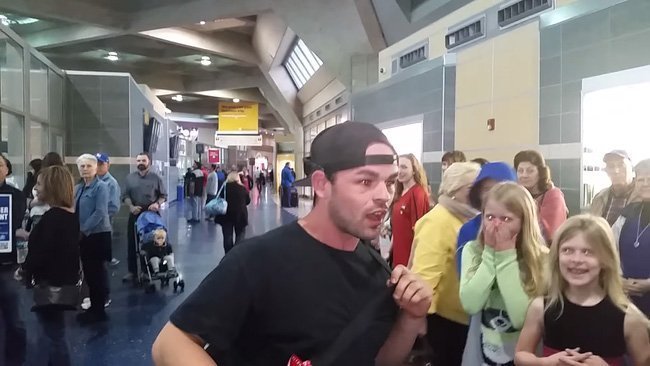 Image source: Youtube/ No Excuses Just Results
His expression when he finally understood what was happening was so funny that the man behind the camera made sure to mention to Mitchell that he had captured it in the video.
After the video was uploaded to Youtube in Mitchell's own channel, it quickly went viral, getting more than 2.3 million reproductions.
Please fill in your e-mail so we can share with you our top stories!