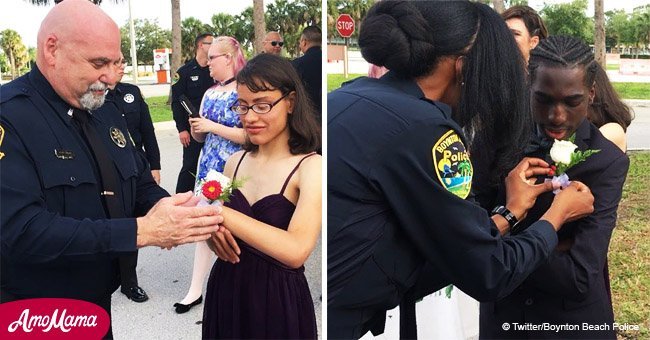 Police officers stand in as prom dates for special needs students
These police officers are not just heroes during crime scenes, they are also heroes for high school students with special needs.
On May 5, 2018, the John I. Leonard High School had its prom, which was held at the Kravis Center in West Palm Beach. A group of students who have special needs expressed their excitement for the special night.
One of the teachers in the school has a husband who is a retired police officer from the Boynton Beach Police. His name is Scott Harris.
When Harris found out about the students, he and his colleagues in the force had an idea that they will be the ones to bring the kids to prom. Harris shared that the special needs students wouldn't have had the opportunity to go to prom if they accompany them.
WPTV shared a video showing a couple of officers meeting with the kids. The students were smiling from ear to ear as they wore their corsages and boutonniere.
Harris reflected and shared his realizations to WPTV after interacting with the kids.
He said, "They are awesome kids and now they are mingling with the other kids, doing the same thing that kids that don't have disabilities are doing."
For the kids, a special dream of theirs has been fulfilled during that night. It wouldn't have happened if the police officers did not have the initiative to bring the young ones to prom.
As seen in the video, the kids looked very happy dancing on the dance floor with the officers, being carefree and completely out of their element.
Harris' wife, Sandi, shared her sentiments as well. She said, "Just to have the kids doing something that they normally wouldn't do with the disabled kids, they wouldn't be able to be here if it wasn't for Boynton."
Please fill in your e-mail so we can share with you our top stories!