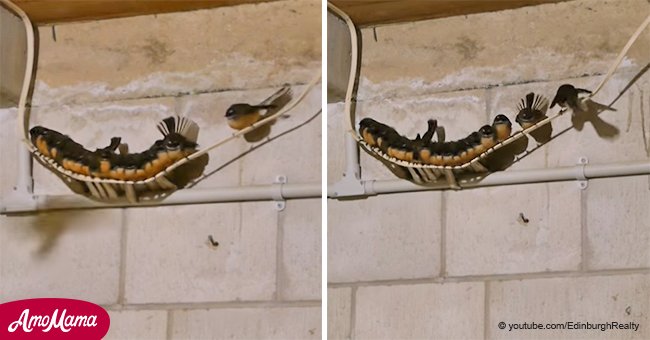 Video footage shows fantail birds displaying uncharacteristic behavior
Even though New Zealand fantails, also known as Rhipidura fuliginosa, have been rarely seen communally roosting, Jim Columb recorded that action in his own house.
In the video uploaded to the Edinburgh Realty YouTube channel, the little birds, that weighs approximately 12 grams, can be seen perched on an electrical cord located in Columb's garage.
According to The Guardian, they were doing so to conserve body heat as it happened in winter in a semi-rural area near the southern city of Dunedin. Ornithologist Ralph Powlesland was contacted by the same source.
He confessed that similar events of communal roosting of these type of birds have been reported only in the southern South Island and in a few other places where hard frosts and snow occurs, like central North Island.
Columb, who admitted to having seen the same roosting episode only three times throughout his life, noticed that the fantails did so when a strong snowstorm was approaching.
Wildlife scientist Eric Spurr admitted that while the fantails might communally roost during extremely cold weather, they were not social birds. On the contrary, they tend to be territorial in the breeding season and can nest many times in a season.
The fantails are New Zealand native and, consequently, they are widely known by their Maori name, pīwakawaka. They are widespread throughout scrubland and forests in New Zealand, ranging from sea level up to the snow line.
These birds have long tails that are almost half their body size. The two central tail feathers are black and the other ones either have white inner webs or are entirely white, depending on the subspecies.
Apart from not living much, they are one of the favorite preys of some predators, including bigger birds and pests, like rats. Thankfully for their species, they are prolific and begin breeding when they are a few months old.
Dr. Spurr finally pointed out that one pair of fantails was known to have laid five clutches, fledging 15 chicks in a single breeding season.
Please fill in your e-mail so we can share with you our top stories!