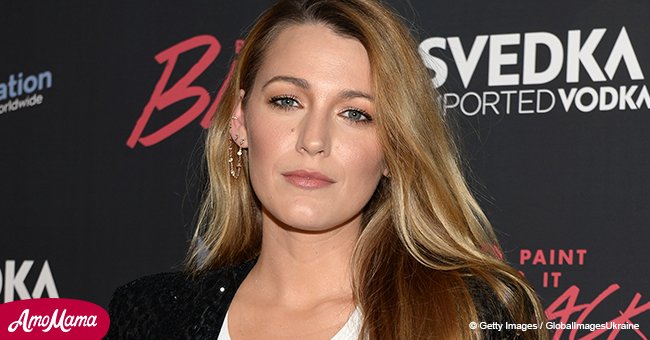 Blake Lively flashes flawless neckline in a strapless sparkly black dress with an enormous sash
Barely a week after her flawless Met Gala display, Blake Lively is back on the radar, this time in the company of her husband, Ryan Reynolds. The couple was attending a special screening of Marvel's movie Deadpool 2 in New York.
Ryan Reynolds, 41, has been traveling all over the world to promote his latest movie, Deadpool 2, and now it's time to catch a break. On Monday night, the star and his wife dressed up and joined other celebrities in New York for a special screening of Marvel's new movie, Deadpool 2.
Reynolds looked dashing in a gray tailored two-piece suit with a dusky pink waistcoat. The actor paired his outfit with a white shirt, black tie along and brown shoes. Blakely, ever the fashionista, went with a strapless sparkly black ankle-length outfit that she finished off with a pair of black sandal heels.
The couple was joined for the screening by Zazie Beetz, 26, who plays Domino in Deadpool 2. She opted for a colorful lengthy outfit with sleeves and a round neckline. She piled her curly hair up high on top of her head and finished off her look with dark lippie.
Morena Baccarin who also stars in the movie wore a black mini dress with yellow and blue detailing that showed off some cleavage. Brianna Hildebrand, another cast member wore red from head to toe, while energetic Terry Crews, 49, leaped off dramatically for the cameras in his striped suit.
Before the screening, Reynolds had asked fans in a tweet not to spill the beans if they were selected to watch it before it premieres.
"Only a handful of people know the film's true plot. One of them is not Ryan Reynolds. We're asking that when you see Deadpool 2 you don't say a fucking word about the fun shit in the movie. Cause it'd be super lame to spoil the fact that Deadpool dies in this one. Kidding. Not kidding. Kidding?"
The sequel follows the foul-mouthed superhero Wade Wilson who returns with his own squad to battle the time-traveling mutant soldier Cable. The movie premieres on May 18 in the US.
Does the trailer entice you to watch Deadpool 2? Tell us in comments.
Please fill in your e-mail so we can share with you our top stories!