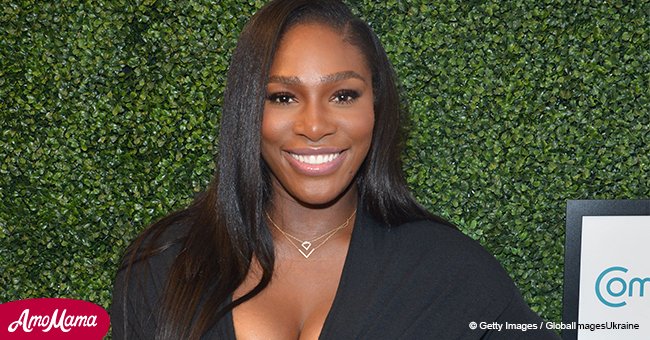 Doting mom Serena Williams shares an adorable photo of 8-month-old daughter in a huge grey hat
Doting Mother and legendary tennis player, Serena Williams shared an adorable photo of her daughter rocking a fashionable grey hat.
AmoMama shares with you details of Olympia Alexis Jr. Ohanian fashion style at such young age as seen on Instagram post.
Olympia Alexis Jr. Ohanian is the daughter of iconic tennis player Serena Williams, and apart from her good looks which she inherited from her beautiful mother, it seems Olympia also got her fashionista vibe from her mother as seen in a recent photo.
The 8-month-old looked like a budding diva in a grey colored hat similar to Beyonce's iconic hat style, as she smiled at the camera.
Olympia looked adorable in a white onesie with a rainbow design as she sat in her chair and flashed a toothless grin.
She's fast becoming a fashion diva like her mom.
Fans were quick to notice how adorable Olympia's smile was in the photo, as they flooded the comment section of the post.
'Never again toothless laughing will be so sweet.. Too cute.'
@moxietheycallme commented,
'We're going to miss the gummy smiles when those teeth come in! All part of growing up.'
Olympia's gummy smile wasn't the only center of attraction, as fans gushed over her fashionable hat also.
@cognacdiamond joked, writing,
'Hey Olympia, can I borrow that hat?'
Who wouldn't want to borrow such fly hat?
The post got over 63,000 likes under six days. How impressive!
That's not Olympia's first experiment with hats as she was seen wearing a face cap in the previous post.
Olympia looked chic in a denim dress and black face cap, as she held a pair of sunglasses in her tiny hands.
The post had a caption which read,
'Closing deals and starting companies.'
It seems Olympia sure has a thing for head wears!
Please fill in your e-mail so we can share with you our top stories!