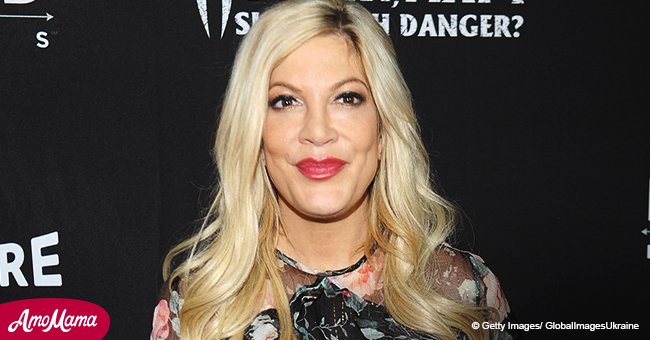 Tori Spelling shares special tributes to her five young children in recent photos
Tori Spelling paid tribute to her five beautiful kids on mother's day, gushing about each one of them on separate posts.
Tori shares five children with her husband Dean McDermott, two daughters named Stella, 9, and Hattie, 6, and three sons named Liam, 11, Finn, 5, and Beau, 1.
While Tori decided to share just how happy she is to be the mother of her five beautiful children, she did not pay tribute to her own mother Candy Spelling, with whom she has had an estranged relationship with.
The 'Beverly Hills, 90210' actress started her posting spree with a photo kissing her first born child, Liam. Tori wrote a beautiful tribute for her son about how her pregnancy with him changed her entire life.
"Liam I loved you from the moment I found out you were growing in my belly. In that one moment I changed. Life was no longer seen thru a me lens but a you lens. A little girl dreaming and searching for something became a woman. My sole mission in life became about protecting you. As you grew in my belly I no longer felt alone in life. Someone was always with me. Then you were born. The moment I held your tiny hand and looked into your blue eyes I knew a love I had been searching for my whole life. I love that was unconditional, a love that was completely pure, a love that would be never ending."
"You made me a mom Monkey. I know we have a big family and you have to share me with your siblings, but no one can ever deny that you were the one that made me a mom for the first time. I would go to the ends of the earth to protect you and thanks at age 11 that you still let me call you Monkey and kiss you on the lips. As we continue on this beautiful journey together... know that your mom loves your with all her heart and soul and I thank the universe every day that you chose to make me a mom. I love you little man. Forever! Ma-ma xoxo #toliamonmothersday #myfirstborn#monkey #liam #mothersdaymessage#unconditionallove #motherhood#mothersday2018"
The doting mom proceeded to write about her first daughter Stella, saying she has wanted a little girl for so long but was scared of not being able to handle it.
"To my first daughter on Mother's Day... Stella, when I found out I was pregnant with a girl I was terrified. All I had ever wanted was a little girl. But what if I couldn't handle a girl? Girls can be complicated. From the moment you were born, you came out screaming loud and proud to make sure the world knew you were there. It was in that moment I knew it would be ok. They placed you in my arms and something clicked. I had my girl. I had been given the blessing in life to mentor a female. And, what a strong female I got."
"One, that would go on to mentor me in so many ways. The bond we formed was incredible. I've never felt more wanted and needed in my whole life. We formed a love I didn't know two females could have. You hugged me and I held on for dear life. You taught me love unlike any I've ever felt. Now, you have grown to be such an amazing girl. My mini me when it comes to anything crafty and DIY. And, my teacher in so many ways. You are my rock and I love you to the moon and the stars. I know whatever you decide to do they better watch out... you are a sweet soul that can and will do whatever you set your heart on! Go get em baby. Love your biggest fan.... Mama xoxo"
Feeling so much love for her five children, Tori was filled with emotion as she spoke about each of them.
Up next on her list was her second daughter Hattie.
"To my 2nd daughter on Mother's Day... it's Hattie Margaret but I call you Hattie Catherine. Why? Because you are unique You are our Hattie Cat. You came to us as a complete surprise. In fact we stuck with that surprise and didn't find out your gender till you were born. Everyone thought you were a boy. But, the morning you chose to be born we were shocked when we got a baby girl. You came out with wide knowing big blue eyes and an attitude and haven't disappointed! You are the sweetest and most cuddly baby girl but can turn on a dime and have mastered how to put your entire family in their place in a heartbeat! We kid that you will either rule the world or destroy it. I'm banking that you will rule the world! You are a strong, smart, funny, and loving soul. "
"A beautiful singer and artist. Such a creative being. Don't change who you are to fit others needs. Ever! Let them conform to fit yours! I love your sass and tude. You are our wildcard and we love watching every minute of your journey. Can't wait to see you take over this world! You embody the saying #TheFutureIsFemale I love you baby... Mom xoxo #HattieCat"
For her next tribute, Tori shared a little bit of her dangerous pregnancy with Finn, who she had when Hattie was only a month and a half old.
"To my 2nd boy on Mother's Day... We were shocked when we found out I was pregnant with you when Hattie was only a month and a half old. And, then I was terrified when I was six weeks pregnant with you and bled so much I thought I had lost you. Your heartbeat in my belly was strong and so I held onto you with all my might. We ended up in the hospital for almost 3 months and the chances weren't good that I would ever hold you in my arms. I talked to you every day and night and told you we would make it. I kept you safe in my belly with the mindset of an Olympian with my goal crossing that finish line and getting the gold. You were the gold medal and anything less was not an option. I had no choice but to believe in fate. And, you were my fate."
"The day you were born was one of the happiest days of my life. We made it. They placed my Finn in my arms and I haven't let go since. You are my little man. My fighter. Am undeniable old soul that far too often does and says things that only your Grandpa Aaron did or said. Your philosophical nature only rivaled by your unbelievably quick wit. By far my cuddliest. You make me believe that we can have more than one soulmate in this lifetime. I can't wait to watch you grow and slay while showing that kindness always wins. Your smile will melt this world. I love you baby bear... Mommy xoxo #Finney #FinnFour#BabyBear"
Last but definitely not the least, Spelling shared how surprised she was when she found out she was pregnant with Beau.
"To my 3rd boy on Mother's Day... Beau, we thought we were done. That our family was complete. But, you surprised us all and came at a time when we all needed a little hope. You were that hope. That sunshine of life that came into our family in a very big and meaningful way. You might be the 5th born to me and Dad but it's as if you are everyone's baby. The moment you were born you became the light in not just our lives but the lives of your two brothers and two sisters. The adoration everyone feels for you is amazing. And, you know it. "
"You are the youngest but in some ways seem the oldest. You are an observer of life. A wise little old soul. You love to make others laugh. You are such a sweet little man and I can't wait to see you grow and become the creative little soul you are meant to be. Strong willed and so lovable. Sometimes the things in life that surprise us the most are exactly what we all need. You warm all of our hearts and we can't picture life without you Beau Beau mommy loves her little squishy. Love you papa... Mama xoxo #beaubeaubear #babybeau #partyoffive"
Tori Spelling enjoys sharing adorable photos of her family on her Instagram, which included these lengthy but sweet photo tributes. The doting mom regularly shares bits and pieces of precious moments with her children to her fans and followers.
Please fill in your e-mail so we can share with you our top stories!