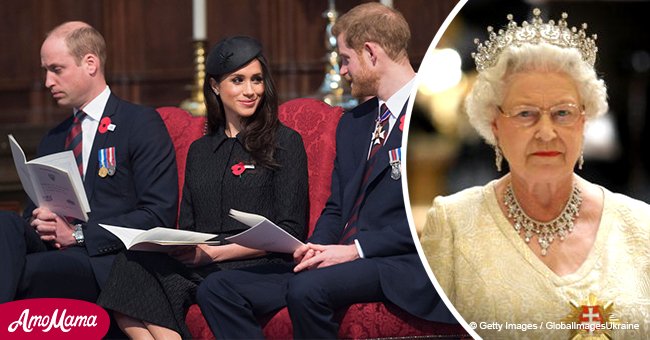 The Queen announces Prince Harry and Meghan Markle's royal titles
It is the big day! Prince Harry and Meghan Markle are about to tie the knot. As a wedding gift, Queen Elizabeth II has given the couple the titles of Duke and Duchess of Sussex.
The official title hasn't been used since 1843 when Prince Augustus Frederick, the former Duke of Sussex, passed away. But that won't be the only title that Harry will have.
According to tradition, male members of the Royal Family receive more than one title on their wedding day; Prince Harry shall also be known as Earl of Dumbarton and Baron Kilkeel, as announced by Buckingham Palace.
The British, Northern Irish and Scottish titles have all been given by the Queen. The monarch is always responsible for choosing and bestowing royal titles, but she might have taken into account her grandson's input during a private discussion.
As for Meghan, although she will be married to a Prince, she won't be a proper Princess. In fact, she will be known as 'Her Royal Highness Princess Henry, Duchess of Sussex and Countess of Dumbarton and Kilkeel'.
The 36-year-old will follow in Princess Diana's footsteps, who wasn't a Princess in her own right but commonly referred to as such. The title of Princess is only bestowed upon those with royal blood, such as Princess Charlotte and Princess Eugenie.
Even though Meghan won't be a Princess, she will be adopting her husband's status and rank, which means that other royals, such as Prince Andrew and Princess Beatrice, will have to bow and curtsy her.
Upon learning the titles received by the couple by Queen Elizabeth II, Nicholas Soames, MP for Mid Sussex and Lionel Barnard, Chairman of West Sussex County Council, took to their Twitter pages to share their thoughts.
Soames confessed that Sussex will be looking forward to the Duke and Duchess of Sussex's visit, and congratulated them on their royal wedding, an example followed by Barnard, who revealed how delighted he was for their new and prestigious titles.
Please fill in your e-mail so we can share with you our top stories!