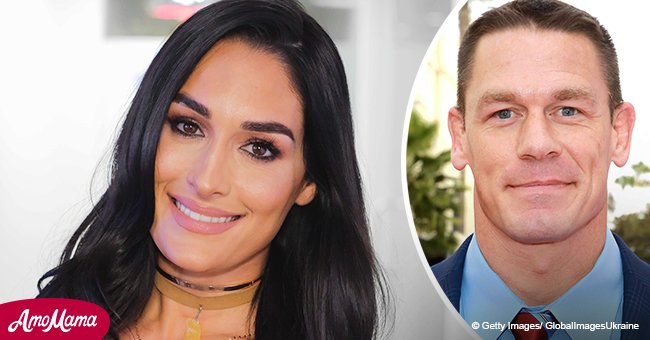 Nikki Bella reportedly spills the beans on what she and John Cena need to reconcile
Nikki Bella shocked everyone recently when she reportedly made an announcement to the public about her stand with her ex John Cena, and it looked like she had terms and conditions attached to it.
AmoMama shares new details with you on Nikki Bella who recently took to the social media platform to share with everyone her stand on her relationship with her ex John Cena, and she revealed what needed to happen for them to get back together, as reported by etonline on May 16, 2018.
The couple who were freshly engaged to one another, suddenly called it quits, and though this upset the public, they seemed to be over for real.
John Cena who is an award-winning wrestling champion had his fans asking series of questions as to how they could have split up so suddenly.
However, Nikki Bella, John Cena's ex-fiancée revealed why and how they would be getting back together, that is if they were.
They had been working towards getting back together for a long time now, and it looks like they have both seen the light at the end of the tunnel.
Time they say is the only thing governing the day, and Nikki Bella has decided to put the scales of her relationship with John Cena on time.
When asked in an interview what it would take for them to finally come back together and be the sweet couple that they had always been, she simply gave a reply, which was 'time.'
They needed to work things out, and talk to each other, and the only factor for them for now, according to her was time.
She revealed that there was still so much love between herself and John Cena, and she could not deny the fact that they cared a lot about each other.
However, she emphasized on the fact that they were giving each other time and space to think and reflect, and hopefully, they would be back together in the future.
There has been no specific reason as to why the couple split up in the first place, but Nikki Bella promised to let every cat out of the bag.
The couple seemed to want to start out with a clean slate, and everyone hopes it would work out for them, as they want things to work between themselves.
John Cena talked about a possible reconciliation between himself and Nikki Bella, and he revealed that having a family with her would be the best thing that ever happened to him.
The only thing, however, standing between this couple is 'time.'
Please fill in your e-mail so we can share with you our top stories!