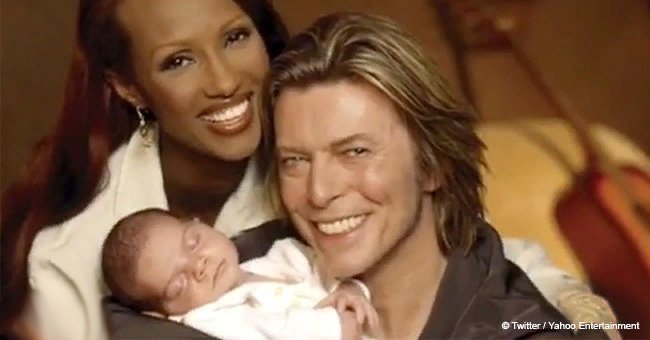 David Bowie's daughter share a photo from her high school graduation
Alexandria Zahra Jones took to her personal social media account to post a photo from her big day.
Wearing a cap and gown, David Bowie & Iman's daughter posed alongside a friend on May 12, 2018.
'Never thought I'd be ever be graduating but the day has come and I'm so thankful for everyone that has supported me thru this. Congrats class of 2018 Wuta ride,' the 17-year-old, who has graduated from high school, captioned the Instagram photo.
Recently, she also uploaded a prom photo on Instagram along with some typical teen commentary on the event
Alexandria, also known as Lexi, is the only daughter of the late English rock musician David and Somali-American fashion model Iman.
The proud mother, 62, shared her daughter's big day on Instagram.
Alongside a video that her older daughter, Zulekha Haywood, made for Lexi, Iman wrote: 'We're so thrilled that Lexi is officially a high school graduate!!! Check the lovely video her sister Zulekha made for her! Proud Mama!'
Iman, who was married to David on April 24, 1992, also posted a photo of Lexi in August 2017, showing how grown up she was.
The photo revealed Lexi to have the eyes strikingly similar to that of her famous father.
In the image, the teenager is seen wearing a white top with a septum piercing. She let her dark-red curls hang loose.
Iman captioned the post: 'The Queen of my heart Lexi Jones at 17 years old!'
Born in August 2000, Lexi is the second child of David.
The legendary musician was first married to Angie Bowie on March 19, 1970. The former couple had one son, Duncan Jones, who was born in May 1971.
Lexi is also Iman's second child, following Zulekha Haywood, who was born in 1978. The model was previously married to American basketball player, Spencer Haywood.
David, who was a leading figure in popular music for over five decades, died from liver cancer in his New York City apartment. He was 69 years old. According to his death certificate, he was cremated in New Jersey.
Please fill in your e-mail so we can share with you our top stories!