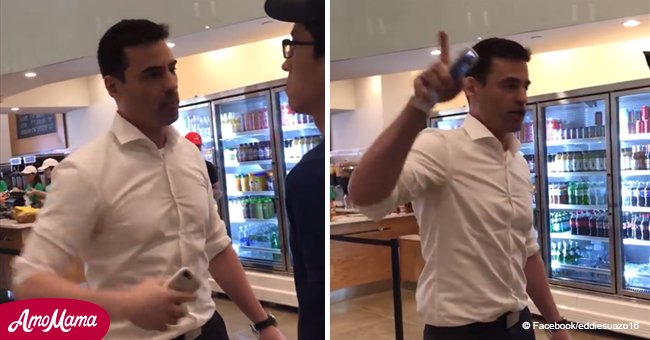 New York lawyer caught on camera during racist rant
When he starting ranting in the cafe at the staff, one member pulled out her phone to record the unpleasant incident.
Aaron Schlossberg is in trouble again for his racist behavior, this time aimed at staff members of the Fresh Kitchen sandwich shop on Madison Avenue in Manhattan for speaking Spanish.
In the video clip uploaded to Facebook, Schlossberg can be seen threatening to call immigration services on the staff to have them all deported.
Emily Serrano, who was a customer in the shop at the time, told NBC New York that she had been speaking Spanish to her server when she heard Schlossberg yelling next to her.
"He's screaming at the guy serving him, 'Give me my f***ing sandwich, you shouldn't be speaking Spanish, I feel disrespected, go back to your country,'" Serrano told the network.
Someone else pulled out a phone and started to record the irate lawyer as he continued his rant, yelling at another staff member.
He complained that every single server seemed to be speaking Spanish to customers, explaining that "this is America" and that they should be speaking English.
As people in the background laughed at the ridiculous rant, he continued, throwing out his next insult.
"My guess is, they're not documented, so my next call is to ICE to have them kicked out of my country," he said.
Next he claimed that they were all there on his dime, that he was paying for their welfare and ability to be there, and that the very least they should do in return is to speak English.
He then told Serrano (off camera) to "go back to Guatemala." Serrano was born in New York, and is of Puerto Rican descent. It was at that point that she decided to call the police, and was speaking to dispatch when he left.
The video footage of the disgusting rant has gone viral, with over 6.7 million views in just a week. It has also been shared 77,000 times.
As a result of his behavior, Schlossberg has been evicted from his part-time office by the midtown building, and they issued a statement to NBC about their decision.
"Corporate Suites has a diverse and global community of business professionals working in a rich environment with mutual respect. We found Mr. Schlossberg's statements offensive and contrary to our community norms and have decided to terminate his services agreement with us."
Congressman Adriano Espaillat and Bronx Borough President Ruben Diaz Jr. have reached out to the disciplinary committee that oversees lawyers in New York state to file a formal complaint against him.
There is also a petition to have him disbarred, which already had 9,000 signatures on it 48 hours after the incident.
He has also faced a tirade of online fury, with people giving his business 1-star reviews on Yelp, listing his business on Google as a "Spanish restaurant," and creating a GoFundMe page to send a Mariachi band to his office.
It is not the first time that Schlossberg has demonstrated his racism and xenophobia, having previously yelled "Fake Jews" at a group of Haredi Jews, deliberately walking into vlogger Willie Morris before demanding to know what country he came from before threatening to call the police, and has been seen in a "Make America Great Again" hat yelling at Trump protestors.
Please fill in your e-mail so we can share with you our top stories!