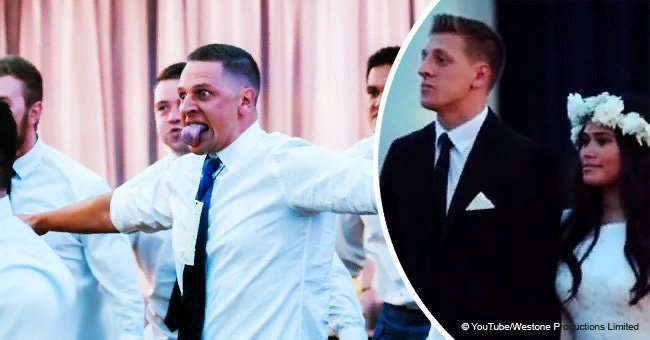 Emotional wedding haka becomes internet sensation
Wedding dances are always special, but this traditional dance form turned the occasion into an emotional one.
Ben and Aaliyah Armstrong's wedding took place in January 2016. It garnered the interest from a worldwide audience when an emotional haka performed during their wedding was uploaded on the Internet.
A video clip on YouTube showed some of the friends and family of the bride and bridegroom performing the powerful traditional dance form
The video has been loved by a large number of people and is watched all over the world. So far, there are over 2 million views on the video.
The performance begins with a leader screaming commands while being surrounded by several men, who stand with hands on each other's shoulders.
Then they spread out into a formation and begin a synchronized form of screaming and chanting.
The bride and bridegroom start getting emotional about this. While the bridegroom tries his best to contain his emotion, the bride starts to break into tears.
The performers then begin to slap their chests and stomp the ground hard to create eccentric music and beats, filling up the air with an electrifying vibe.
The dance transcends into another level when the bridegroom joins the dancing crew and starts his own war cries.
He joins in the rhythm of other performers and starts timing his chest-slaps and stomps to the timing of the chanting.
A moment later, the bride as well starts to scream the chants and gets completely involved in the haka cries.
The performance ends with the bride and bridegroom showing their appreciation for the friends and relatives who put up the special dance for them.
They can be seen hugging each of the performers and taking time to show their gratitude for an unforgettable experience.
Please fill in your e-mail so we can share with you our top stories!