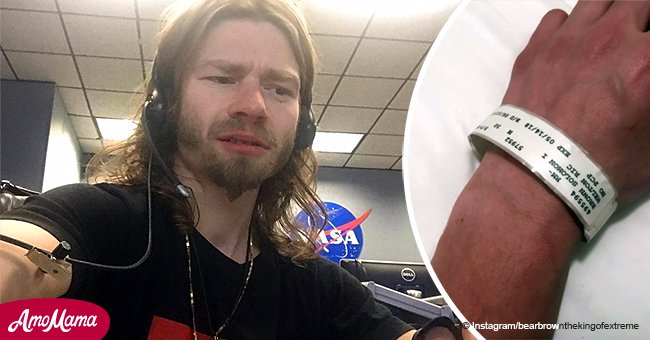 'Alaskan Bush People' gave major update on 'Bear' Brown's health amid hospitalization
Last week Monday, Solomon 'Bear' Brown had to go to the hospital after injuring himself in the forest. He hurt his eye after running into a branch.
A representative for the Discovery Channel where Solomon's reality family show, Alaskan Bush People, shared on his condition. He was said to be doing fine according to People.
Solomon Brown, 30, is currently wearing an eye patch after the accident in the forest. Last week he shared photos of his hospital bracelet and the new black eye patch he was given for his injury.
A Discovery Channel representative shared that the star was doing well. "He was running through the woods (as usual) and he ran into a branch that injured his eye," the rep confirmed.
His fans know that he calls himself a daredevil. In his official biography, it's written by Discovery that Solomon is fearless and full of confidence.
He's described as liking to do everything to the extreme. His job in the family is to hunt for meat but he enjoys tracking animals even when he's not hunting for meat.
The Brown family has had its share of hospital visits in the last few years. Last year in July, the eldest son, Matt Brown, 35, was alone at the family's rural Alaskan homestead when he detonated an improvised bear deterrent.
"He went to the hospital and found that he had a scratched cornea. He will be fine."
Discovery Channel representative, People, May 17, 2018
The deterrent was made of black powder and it knocked him out. Matt was sent to a hospital in Juneau via airlift with head wounds.
There he was sent to the intensive care unit where doctors used nine staples to close the wound on his scalp. "The bears were really bad. I just got overly paranoid in the situation and took it a little too far," he told his brother Bam later.
At the time bears near their home had become increasingly comfortable with entering the property while the family was away. Matt noted afterward that he'd become careless while trying to keep their home safe.
The boy's mother, Ami Brown, 54, also faced a health crisis when she was diagnosed with advanced lung cancer. Last year in December, after months of painful radiation and chemotherapy treatments, she finally received some good news.
Doctors informed her that all signs of her cancer had disappeared.
Please fill in your e-mail so we can share with you our top stories!