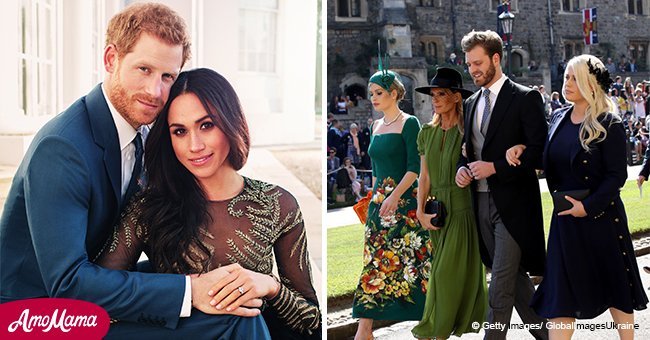 Meet Diana's nephew who is now 'the hottest Royal' bachelor
As much as the focus was on Prince Harry and his wife Duchess Meghan on Saturday, there was one other person who caught people's attention. Louis Spencer, Harry's cousin, was the new eye candy.
Now that Harry has been taken, social media users noticed someone else that was eligible. People reported that he was currently single.
Louis Spencer, Viscount Althorp was spotted at his cousin's Royal wedding recently. He is Princess Diana's nephew.
Spencer was seen wearing a skinny morning suit with a thick beard as he made his entrance at the event. The 24-year-old had his mother, Victoria Aitken, and sisters Lady Eliza and Lady Kitty Spencer alongside him.
The sibling's father is Charles, Earl Spencer, Princess Diana's younger brother. Spencer is next in line to the earldom.
Some of the viscount's good looks came from his mother. She was a model prior to marrying his father in 1989.
'I'm available! Traditions already broken! Date a cougar!!!!...'
Shelia Carter Stewart, Facebook, May 21, 2018
Aitken and Spencer's father divorced in 1997. The viscount has escorted his mother to other high-profile events before like the one last year.
The pair attended the Tatler's English Roses event in association with Michael Kors at the Saatchi Gallery. There, Spencer chose a much more casual look.
He wore a dress shirt and left a couple of buttons undone to reveal part of his hairy chest. According to Daily Mail, the British aristocrat has reportedly studied at the University of Edinburgh.
He isn't married yet and is said to be single. In March 2015, Nicki Minaj posted a picture of her posing with Spencer backstage at one of her concerts on her Instagram.
The star was already aware of how eligible and hot the bachelor was and joked in her caption that it was their wedding photo. Women who want to marry into the Royal Family might still stand a chance if they can manage to snag him.
However, Spencer isn't officially a Royal but technically an aristocrat. The woman who would marry would earn the title of countess.
Social media users were quick to notice the new man on the block. It was quite clear that they had their sights on him judging from their posts.
Spencer is the youngest of his father's children with his mother.
He grew up with his sisters in Cape Town, South Africa. Prince Harry has remained close to his mother's side of the family and wanted them all to be there for the celebrations.
He also always visits his cousins when in Cape Town. Prince William and Duchess Kate attended Spencer's 21st birthday at Althorp when she was heavily pregnant with Princess Charlotte.
Harry's cousins are believed to be among the 200 guests who got themselves a 'golden ticket' to the all-night after-party at Frogmore House. Princess Diana's elder sisters, Lady Sarah McCorquodale and Lady Jane Fellowes, and their children, also attended.
Lady Jane was asked to give the reading at St George's Chapel in a tribute to the late Princess of Wales.
Please fill in your e-mail so we can share with you our top stories!