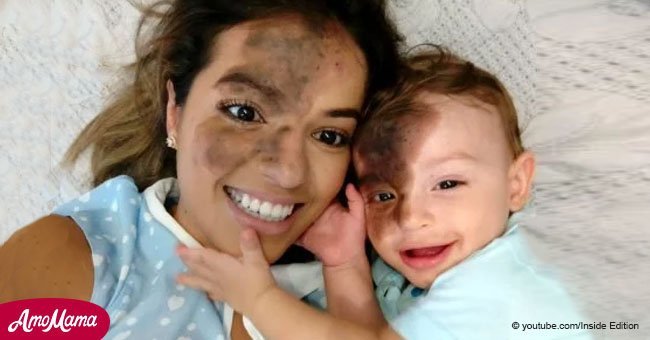 Mother replicates her son's facial birthmark to make him feel normal
Carolina Giraldelli wanted to make her son feel that he was still a normal boy despite his facial birthmark. She went on to replicate his look with makeup.
As a special tribute to her son, 26-year-old Giraldelli asked her friend, who is a professional makeup artist, to perfectly copy her son, Enzo Cestari's birthmark.
One-year-old Enzo was born with a dark birthmark that appears to look like a face paint on his forehead down to one side of his nose.
For Giraldelli, she hoped that Enzo's birthmark would not hinder him from having a normal. The mother vowed to make her son feel that he was perfect just the way he was.
After the mother had the artificial birthmark done on her face, she went home to her son to surprise him.
taken by Giraldelli herself showed Enzo's reaction the moment he saw his mother. He was grinning from ear to ear.
Giraldelli went to work that day with the makeup on. In fact, she even wore it to bed.
The mother shared that she felt like the proudest mother during that day.
In May 2017, baby Enzo was born through C-section. Scans revealed that his umbilical cord was wrapped around his neck twice, which posed risks.
Thankfully, Enzo was born healthy despite the birthmark.
Still, to make sure it was safe, Enzo had to undergo surgery when he was five-days-old to make sure that the birthmark, which is called Congenital Melanocytic Nevi, was harmless.
Talking about her son's situation, Giraldelli confessed that it was difficult for her at first, especially when people would judge her son because of how he looked. Some people would show pity while some would feel disgusted by Enzo.
As a mother, it was very hard for Giraldelli, but she found the courage to be strong for her son.
Giraldelli explained that since then, she and her husband always try their best to act normally and that they will always be proud of Enzo for who he is.
Please fill in your e-mail so we can share with you our top stories!