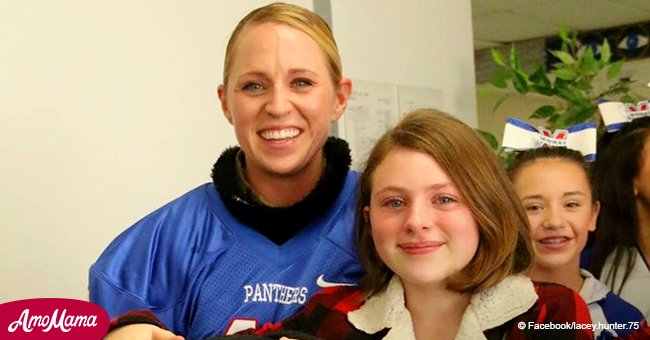 Soldier mom surprised her children with unexpected homecoming
Sgt. Lacey Poltoratskiy, who spent nine months away from her two children after being deployed in Kuwait, surprised both of them at their schools in Texas.
As ABC News reported, she went to Hewitt Elementary School first to surprise her kindergartner son, Daxton Hunter. He and the rest of the class were told that a special guest was coming to the classroom.
As soon as he noticed that the guest was actually his mother, he couldn't hold back his tears. Poltoratskiy and Daxton shared a warm and long hug, the first one in more than nine months.
Poltoratskiy confessed that she started crying when she was in the hall even before she saw Daxton. However, she realized that she had to stay calm as she didn't want to walk into the classroom crying in front of a 'bunch of kindergarteners.'
Next, it was time for JaiceyBelle Hunter, Poltoratskiy's seventh-grade daughter, to be surprised. In order to do so, the mother put on the dress of the Midway Middle School mascot.
JaiceyBelle, a group of cheerleaders, and the mascot got together in the school. When Poltoratskiy removed her mask, her daughter's expression was priceless. She opened her mouth and eyes and hugged her while crying.
Poltoratskiy added that, again, she was already crying even before removing her mask and that she chose to surprise JaiceBelle that way because she liked 'the flair and the drama.'
The same source added that the children's father, who's also a soldier in the army, was deployed in Kuwait, as well. However, he had just gotten home and the entire family was able to spend Thanksgiving together.
While the couple was serving their country, Derek and JaiceBelle were staying at the house of Poltoratskiy's parents.
Thankfully, both of their parents managed to go back home safely and they are looking forward to getting back to normal civilian life.
Please fill in your e-mail so we can share with you our top stories!