Body language expert explains some interesting details about Meghan and Prince Harry's behavior
Following their wedding, the couple has already attended their first royal engagement as husband and wife, and there are slight differences to the new Duchess' style. 
Meghan, Duchess of Sussex, and Prince Harry tied the knot on May 19. Just days later, they were seen attending Harry's father Prince Charles' 70th birthday celebrations at a garden party. 
A body language expert, Judi James, has spoken to Express UK to offer her professional opinion on Meghan and Harry's appearances at the celebration. 
Instead of jetting straight off on their honeymoon, the couple decided to stick around for a while in England to join in Prince Charles' festivities. 
Stepping out at the garden party, the new Duchess opted for a dusky pink Flavia silk-crepe pencil dress from Goat, a brand that is also in her sister-in-law Catherine's wardrobe collection. 
The dress is officially priced at £590. 
James immediately picked up on the difference to Meghan's previous style with this choice. 
"There's an air of grown-up elegance and glamour about Meghan's Audrey Hepburn-chic outfit and although she's teamed it with some perfectly-poised and rather high-status body language as she walks with Harry it's also great to see the more accessible, down-to-earth-giggly and undeniably happy version of the new Her Royal Highness," she said.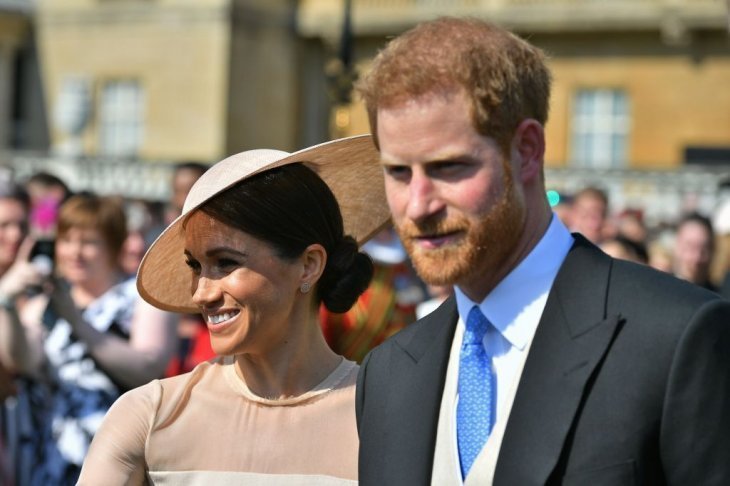 Meghan was also carrying a clutch bag, another favorite of Catherine's, which she held just below her waist. 
James explained the likely reason for carrying the bag at that height, explaining that after a women has married, particularly into the royal family, people start to wonder when the children will come, and focus shifts to the stomach. 
Speaking of Harry's body language, James believes he has taken on the same "Alpha" role he took on when helping Meghan into the car on the way to their evening reception. 
"Having recovered from his wedding day jitters he looks relaxed and happy striding slightly in front of Meghan with his splayed torso and top hat in one hand," she explained. 
Meghan looked very demure walking slightly behind her husband. 
At one point during the afternoon, Meghan was caught looking very relaxed, laughing at something.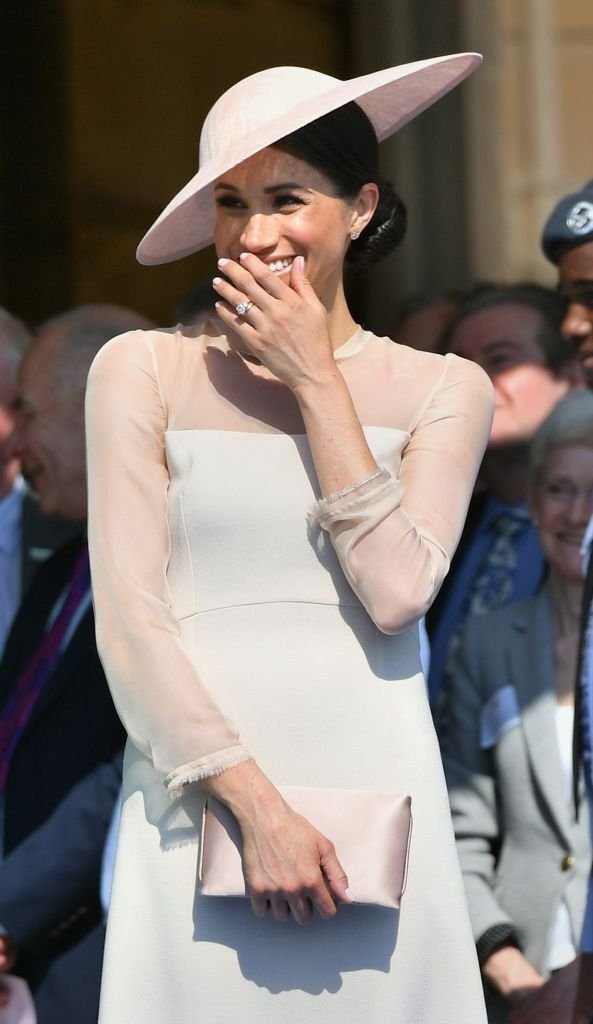 "Her facial expression registers over-spilling delight here, so much so that she brings one hand up close to her face in a cut-off 'hiding' gesture as though made shy by the strength of her own emotions," James said of the radiant new bride.
James also argued that Meghan is still trying to look accessible to the public, despite her new royal title elevating her to a new level. 
"Body language like this creates a strong tie-sign of direct communication with the public and the friendly, status-lowering signals on display show she's no intention of getting too grand in her new royal role," she explained.