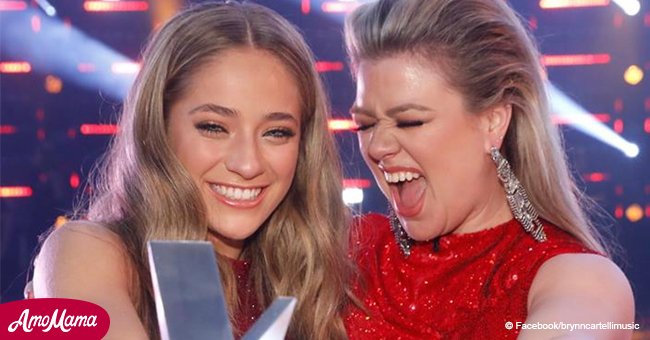 Brynn Cartelli has become the youngest contestant to win 'The Voice'
The Voice has had many different winners throughout its 14 seasons. Brynn Cartelli, the most recent one, is the youngest contestant to win the competition.
Everybody knew that 15-year-old Cartelli would be a strong contestant from the audition round when veteran coach Adam Levine told her that she sounded like a 36-year-old woman who has been through a lot.
After winning The Voice, Cartelli had a conversation with Rolling Stone, wherein she revealed certain details of her journey on the show. One of the things she said was that she chose to sing Beneath Your Beautiful for her audition because she thought it was 'pretty song.'
Apart from that, Cartelli had been singing it for a long time in her previous gigs, so it just felt right for her to sing it as she knew she could do something good with it.
Later, Cartelli admitted to having blacked out when the chairs turned after the blind audition and that she couldn't remember most of it. However, when she watched the show and heard that Kelly Clarkson told her she could win the show, she didn't believe it.
Speaking about her songs selection, Cartelli admitted that Clarkson always supported her decisions as she didn't want to be pinned down to a specific genre.
Cartelli pointed out her selection was based on what she wanted to show or say in that week and that her idea was to find a collection of songs from different genres that she could make her own.
When asked about what type of music she would like to go down, The Voice winner confessed she saw herself doing a 'darker soul-pop lane.'
As a songwriter, Cartelli added that she liked to tell stories in her songs and that it's exactly what she was planning to do.
Finally, Cartelli confessed she would to go back to school and finish it, which would be 'weird and crazy' as she would have to find some normalcy after becoming a star.
Please fill in your e-mail so we can share with you our top stories!