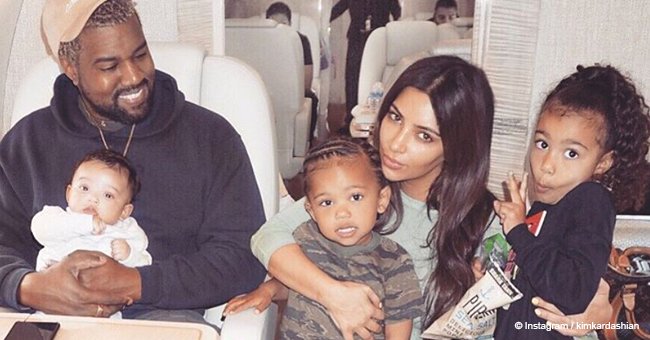 Kim Kardashian returns to platinum blonde hair for wedding anniversary
Kim Kardashian West has gone blonde to celebrate her for year wedding anniversary. This was after she declared in February 2018, that she wouldn't go back to the hair color.
The star posted a short video on Twitter that showed her transformation. In the caption of her tweet, she announced that it was her husband's favorite color.
Kim Kardashian West debuted her new blonde hair on Thursday. Pleasing her husband, Kanye West, seemed to be important to her as at the beginning of the year she'd declared that she wouldn't be going back to her the color.
She told shared on Twitter that it would be years before she would go blonde again. In February, the star shared the same sentiments about the hair color declaring, 'I can't even tell you how over my blonde hair I am!'
This isn't the first time the Keeping Up With the Kardashians star has played with her hair color. She had kept her traditional brown color for a while after going with a pink hairdo for a trip she took with sisters Khloé and Kourtney Kardashian to Tokyo
At the time, she'd just had the blonde hair. Throughout her Tokyo stay, she didn't shy away from sharing images of herself.
'Went blonde again for my anniversary it's [Kanye West's] favorite.'
Kim Kardashian West, Twitter, May 24, 2018
Her pink hair drew some criticism with fans accusing her of wearing a wig. In an effort to debunk the lies, the star posted a video to her Snapchat were she was seen tugging and running her hands through her hair to prove that it was real.
She stated that if she couldn't understand why people would think she was lying about wearing a wig when she wasn't. Kim insisted in the post that she'd dyed her hair.
The star also had another way of celebrating her four-year-anniversary on Thursday. She shared a fan-made compilation video of her relationship with her husband on Twitter.
Kim also thanked her fans for making the clip and included heart-eyed emojis. In January, the reality star welcomed a daughter named Chicago West.
Chicago was born in January this year via surrogacy. The couple had an Italian wedding four-years-ago and besides the two Twitter posts celebrating the occasion, Kim also posted on Instagram.
There she posted a message for Kanye saying, '4 years down and forever to go.... Thank you babe for giving me our family and caring so much about us. Thank you for inspiring me on a daily, I'm so lucky.'
She added that she couldn't wait to be with him forever and wished him a happy anniversary.
Please fill in your e-mail so we can share with you our top stories!