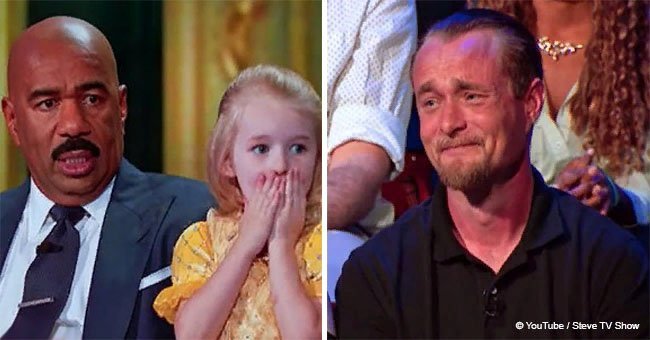 Dad can't hold back tears watching Steve Harvey make his little daughter's wish come true
The little girl had no idea when she appeared on the show that she was in for a wonderful surprise especially for her.
61-year-old actor, daytime talk show host and award-winning author Steve Harvey is most famously known for his show, The Steve Harvey Morning Show.
In April of this year, 5-year-old Bella joined him on another of his shows, Little Big Shots. Unbeknownst to the little girl, Harvey had a surprise planned for her and her family.
Beauty and the Beast is Bella's favorite movie, and Harvey went out of his way to make her time on the show memorable. Bella was dressed in a yellow ballgown and dancers accompanied her onto the stage.
Bella said her favorite character was Belle, because "she taught the Beast a new lesson," and she was pretty both on the outside and the inside.
However, it was her father's reaction that truly tugged at the heartstrings. It was clear from his expression that he was proud of his little girl.
The full clip can be seen on Faith Tap, and the outlet reported that her father's face radiates with the love while he tried to hold back the tears.
Harvey sang the theme song with Bella, much to the delight of the audience. He also invited the audience to join them, and the lyrics of Be My Guest resounded through the auditorium.
He then asked Bella if she loved the dress. When she said yes, Harvey said she could keep it. Her face lit up, but the best was still to come.
Harvey also arranged a trip to Disney Land for Bella and her parents. Bella could barely contain her excitement and said that it was 'her dream come true,' and that it is all she ever wanted.
After Harvey left the stage, the dancers returned. They swirled around Bella before placing a crown on her head. The segment ended with Bella blowing a kiss to Harvey.
The third season of Little Big Shots premiered in March of this year. Part 2 will return to the small screen on June 14, 2018, on NBC.
Please fill in your e-mail so we can share with you our top stories!