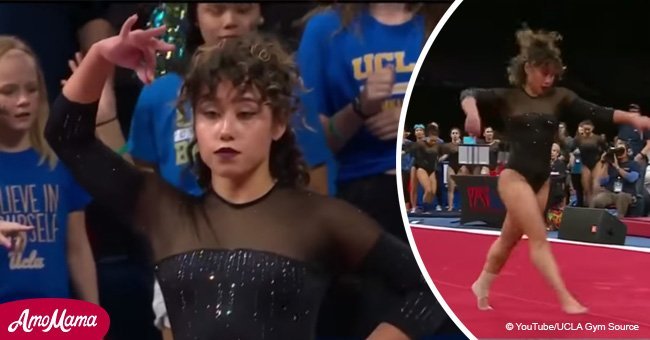 Gymnast Katelyn Ohashi wows the crowd with Michael Jackson routine
Katelyn Ohashi mesmerized the audience when she performed to a mix of several Michael Jackson songs.
The gymnast's floor routine at the 2018 Pac-12 Gymnastics Championship included tumbles, splits and moonwalks. The activity was held on February 25, 2018.
A video of her performance posted to YouTube has been viewed nearly 300,000 times.
Ohashi, 21, showed off her graceful moves as Jackson classics like The Way You Make Me Feel and Wanna Be Startin' Somethin' played in the background.
Ohashi, a two-time All-American, is currently competing for the University of California, Los Angeles.
She wowed the audience and stunned the audience with her Michael Jackson-inspired dance moves. Because of her performance, she helped her UCLA team win over Oregon. They scored 198, which was their best of the season.
The crowed gave Ohashi a standing ovation after her perforimance. The gymnast flashed a sweet smile.
Fans praised her in YouTube's comments section.
'One of the best routines in [gymnastics] history. Every movement onto the next flowed really well. Well done, Katelyn!' commented MissIvery14.
Kurtis Engle commented: 'Gymnasts are the most impressive athletes of them all. They don't just make the impossible look easy. They make it look like fun.'
The former USA junior national gymnast managed to get her career-first perfect 10 with a beam routine in March of last year. Her team was competing against California then.
Ohashi caught public attention when she made her debut on the national gymnastics scene during the 2009 Junior Olympic National Championships.
During the competition, she placed first on floor exercise, tied fro second on uneven bars, placed fourth in the all-around and tied for seventh on vault.
The gymnast also competed in her first elite meet at the U.S. Classic in Des Moines, Iowa.
In March, Ohashi bagged the championship during the 2013 American Cup, defeating Simone Biles.
Please fill in your e-mail so we can share with you our top stories!