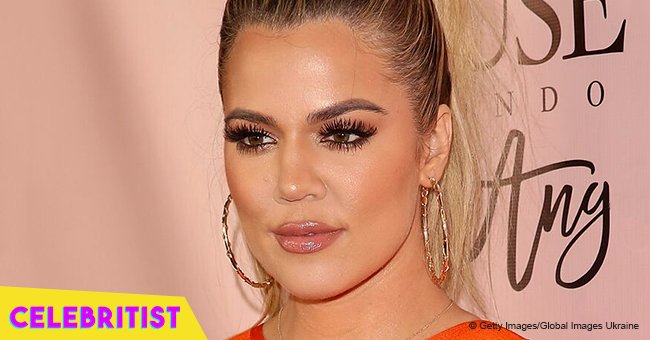 Khloé Kardashian posts cryptic quote about love after sharing 1st unfiltered photo of True
Although the reality television star is yet to publicly address her boyfriend Tristan Thompson's cheating scandal and chose to stand by his side amid all the drama, many believe that the quote she chose to share was directed at him.
Celebritist learned from "People" that 33-year-old Khloé took to Instagram stories this past Saturday to share the quote. Instagram stories disappear after 24 hours unless you mark it as a highlight, but "People" published a screenshot of the words.
"You can be a good person, with a beautiful spirit, and still possess the authority to tell someone: You got me f—ed up."
News of Tristan's cheating scandal broke only a few days before Khloé gave birth to their baby girl, True. Fans were excited to see the first pics of her daughter and Khloé didn't disappoint when she recently took to Instagram to show off the cute baby.
True has beautiful eyes and adorable freckles. In the clip Khloé can be heard telling her daughter that she loves her.
"The Shade Room" shared another close-up of True and comments flooded in from fans who stated that she's absolutely adorable.
"True actually looks like both of her parents, and I think she is a cutie."
The "Keeping Up With the Kardashians" star and 27-year-old Cleveland Cavaliers player Tristan chose to put up a united front after the news of his alleged infidelity broke. Kim Kardashian appeared on the "Ellen" show earlier this year and expressed her sympathy for Khloé. She described the situation her sister found herself in as "f*ked up".
"We really were rooting for Khloe. And we still are. You know, she's so strong and she's doing the best that she can. It's a really sad situation all over."
Even though Kim's words might ring true, bringing her baby daughter into the world probably overshadowed all the negativity for first-time mom Khloé. Do you also think True is adorable?
Please fill in your e-mail so we can share with you our top stories!