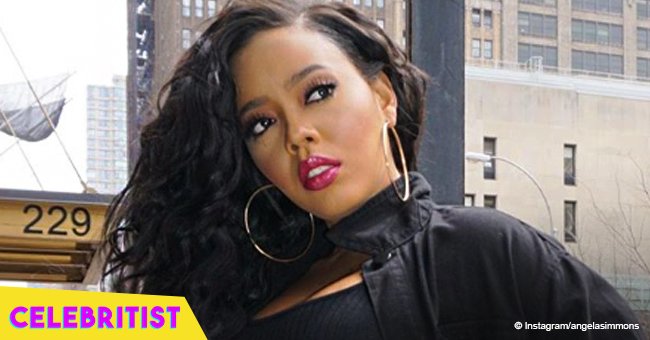 Angela Simmons breaks her silence on split from fiancé and raising her son alone

In an interview for the season 4 premiere of WEtv's "Growing Up Hip-Hop", Angela Simmons finally opens up about her split from fiance Sutton Tennyson which led her to raising their son alone as a single mother.
In April 2016, Angela Simmons announced that she was engaged to Sutton Tennyson. Due to the abruptness of their engagement, many speculated that she was acually pregnant. A few weeks later, Simmons confirmed the speculation and announced she was expecting her first child.
Just before ringing in the new year, Simmons announced that she and Tennyson called off their engagement. On Instagram, she shared that what she went through in 2017 has made her "stronger".
The reality TV star has adjusted to motherhood and life with her one-year-old son Sutton Joseph. However, she claims that sometimes, she still struggles with the fact that she's raising her child alone.
"I just got to a place where I felt like I wasn't happy, and I tried, and I tried, and I tried and I wanted it to work because the last thing I wanted to do was not be together with the person I had my child with. God had another plan for me."
"Well I recognized my strength to walk away from what isn't healthy for me. I faced my biggest fears this year. And from that I am open to my new life and evolving . I truly have seen and been through some stuff that I know tons of women go through. And I speak up to let you know there's hope. All of those who are single mothers that are hurting that want to give up .. Don't ! Also don't stay somewhere that you aren't valued . And don't allow anyone to treat you less than what you are. It's not easy to face my truth in front of this cold world . But I face it with pride because I got through this and will get through it all! Protect yourself !!! Take the steps you need to make sure you are really happy!! Really happy inside. Not just a smile . Not just waking up to another day. But loving the day you are waking up in. I don't speak to down talk anyone . But I speak to free myself from my past. I'm ready to turn the page . And ready to uplift anyone who needs uplifting along the way! 2018 ... I can't wait to meet you"
The 30-year-old spoke to her mom, Valerie Simmons, about being a single mom, and walking away from a relationship that was not at all beneficial to her heart. She also opened up about being scrutinized by the public after she shared her relationship so candidly on social media.
"I feel like I've done everything I could with the relationship. Obviously, we went to counseling and I really could never imagine in a million years number one, having a kid with someone out of wedlock. Then the whole relationship just crumbled."
Being in a position where everyone seems to know what is happening in your life, Angela has been having a hard time.
"For me, it's already a lot, then everyone has to look at me like, 'oh you're not married, you're this, you're Reverend's daughter.' So I'm going through all of that and I have to raise a kid in front of the world…single! People are always going to be in my comments, 'where's the dad? what's this?' It's non-stop! They're always worried about my ring and if it's on or off. [People] think they know me and they don't. They have no idea."
Now that everything has been said and done, Simmons has been prioritizing her son above all things, making sure that she focuses on what is good for the both of them and not what anybody else things.
"Of course, I heard a lot of chatter about me having a child out of wedlock…I'm human and it happened," she said. "People are always going to have an opinion and that's just not who I am. I'm not your opinion."
Please fill in your e-mail so we can share with you our top stories!