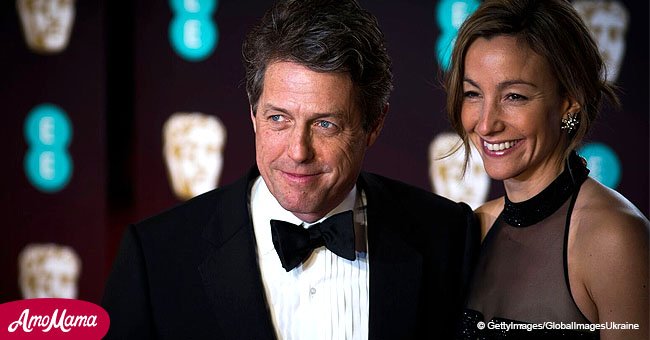 Hugh Grant finally tied the knot for the first time at age 57
Even though Hugh Grant, the 57-year-old actor and film producer, said that he didn't believe in marriage, he and his 39-year-old girlfriend, Anna Eberstein, tied the knot.
According to Telegraph, the low-key ceremony took place on May 25 at a Chelsea registry office on the Kings Road, which is a short distance from their West London home.
The brief ceremony started at 4 pm and only the closest members of the couple's family were present. Among them, Grant and Eberstein's two oldest children were present at their parent's wedding.
Since it was a very private ceremony, there are not many photos of it on the Internet. However, a few guests shared a couple of them in which the details of the couple's wardrobes were revealed.
Eberstein put on a short white skirt, an elegant fitted blue shirt, and espadrilles. Grant, on the other hand, chose a navy suit with a blue shirt that perfectly matched his now-wife's piece of clothing.
One of the aspects that captured more attention was their wedding rings. The one Eberstein had was a simple and classic gold band, while Grants was an unusual large silver wedding ring featuring three red stones.
When the ceremony ended, the couple and the group who was with them – including Eberstein's parents and two brothers and Grant's father and brother – went to an undisclosed location where the celebration took place.
Grant's romantic life has been 'messy' as he had his first child, Tabitha, with Tinglan Hong in 2011. Later, in 2012, he and Eberstein welcomed to the world the actor's second child, John Mungo.
Grant and Hong got together again and had his third child, Felix, in 2013. After that, Grant and Eberstein had his fourth and fifth children in 2013 and 2018 respectively.
Even though he has claimed that the secret to a happy marriage was having affairs, things might be different now that he is finally married. All that is left to do is wait and see if his behavior changes.
Please fill in your e-mail so we can share with you our top stories!