Paris Jackson stuns in tight cropped green jeans, walking arm-in-arm with her cousin TJ
The outspoken daughter of Michael Jackson fashioned an edgy look after she defended herself from her haters with a lengthy message. 
Paris Jackson has been edgy both fashionably and on social media these days.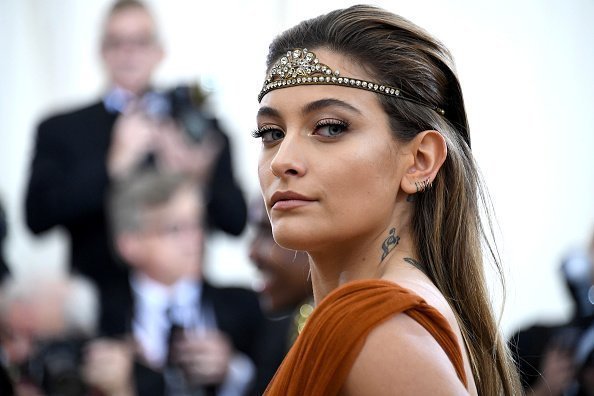 First she appeared in high spirits with her cousin TJ in France donning an edgy ensemble. She stunned in an off-the-shoulder T-shirt paired with cropped green khaki jeans and a Wren + Glory denim jacket with colorful stripes.  She accessorized with Jemma Sands Cabo tassel necklaces and bracelets while rocking a silver nose ring.  She casually slung her arm around her cousin's who was relaxed in a grey hoodie and olive green trousers
Earlier in the week, the 20-year-old was a different kind of edgy when she posted a long message on her Instagram Story defending herself from the backlash she got for missing her aunt Janet Jackson's return to the stage at the Billboard Music Awards in Las Vegas where she also received the Billboard Icon Award for her successful career. 
.@ParisJackson's response doesn't exactly clear up the matterhttps://t.co/Pq8pElGQgQ

— HotNewHipHop (@HotNewHipHop) May 22, 2018
The irate daughter of Michael Jackson began her lengthy message by advising her detractors to keep out of her business with her family.
"Dear social media followers, friends, stalkers, lovers and haters, and fellow moonwalkers: Please do not tell me/demands/try to control how I handle my relationship with the people in my life, specifically my family,"
"As amazing and as s***ty as things can be, it is no one's business but ours."
The 'Gringo' star also explained her actions are synonymous to what her late father has always done. 
"I understand that some of you feel some sort of connection or need to be a part of our lives considering you watched us grow up. However, I am handling my situation exactly how my father did.
"I will always have love and respect for my family. ALWAYS. There is nothing more or less than that, that you need to know,' she wrote. 'Every family has their moments of trauma, heartbreak, separation, love, oneness, tribe, pain, everything. EVERY FAMILY."
Paris further explained,
"My family, specifically, and a good number of others... well, our drama is broadcasted worldwide through media. But that doesn't mean our family issues are any different from yours. Ours are just made public.
"Every level has another devil. Every life has their own s**t to deal with. We ain't inferior or superior to y'all. We're all f****ng human. So let's act like it."
Before ending her message, Paris thanked her readers and was "grateful for everything in my life, positive and negative." But she also directly addressed the issue of her absence from her aunt's Billboard Music Awards gig. 
"Also not to mention, no one from my mgmt [management] reached out to me about attending billboards or about the award, and no one from my family did either. 'I had absolutely no idea until y'all spammed me with hatred."
The feisty Jackson has spokem and hopefully people would cut her some slack after this.