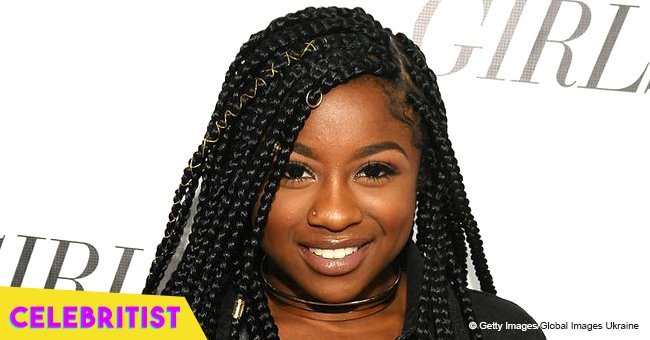 Slimmed down Reginae Carter shows off huge sparkling necklace with boyfriend's name, YFN
Reginae Carter is proud to be in-love, and has been flaunting her new boyfriend, rapper YFN Lucci, through the jewelry she wears.
Memorial Day weekend has been fun for Reginae, who was spotted with her new boyfriend YFN Lucci partying it up in Miami, Florida.
Toya Wright and Lil Wayne's daughter showed off her assets and her tiny waist in a blue Givenchy dress which featured white stars. The college student posted a few photos on Instagram of her shopping spree in Miami, taken by her new beau.
While their romance is just starting, fans are already loving the new couple.
"He gave you a chain. So pretty. My bloody Lucci. Lol, Lucci took this huh?@yfnlucci with the photo cred lol, that waste chile."
"Lucci coming thru with them angles I love how y'all be matching each other fly."
"I peep him taking your pictures is. I love her full body shots! You really don't need any makeup."
Carter has been looking gorgeous in her recent photos, but has recently shared how she deals with the pressure of being a celebrity on social media.
"I just feel like I've always been different, I don't see things how people see it, I don't try to make people like me because that's the new wave or that's what's going on, so let me do it. I never followed the crowd."
The teenager shared how pressured she felt growing up not just as any regular person, but as Lil Wayne and Tonya's daughter, which put a lot of weight on her back.
"I feel like I do have a lot of pressure but I don't let it pressure me if you know what I mean. I feel like people put pressure on me for no reason. They don't look at me like this little girl growing up, they look at me as Lil Wayne's daughter and Toya's daughter growing up. I still make mistakes. I still do things, like I'm growing up. I have to learn from my mistakes. I feel like people think that since you have fame and money, you're different. They put pressure on me but I don't give up, and I'm a hard worker when I put my mind to something that I really want. So Imma cool, and I have great supporters: my parents."
Lil Wayne and Tonya were married from 2004 to 2006, and the two had a daughter named Reginae Carter whom she gave birth to in 1998. Aside from Reginae, Lil Wayne has three other children with three other women named Neal Carter, Cameron Carter, and Dwayne Carter III.
Please fill in your e-mail so we can share with you our top stories!