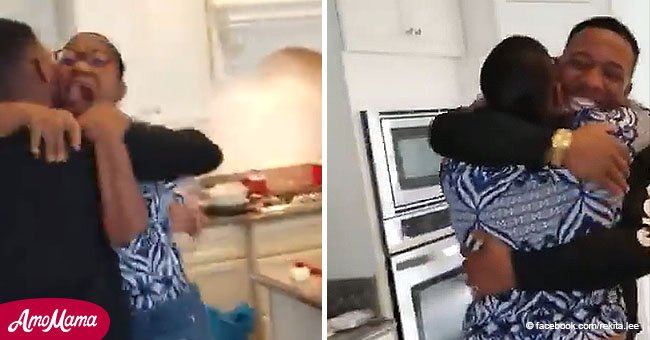 Video shows soldier surprising his mom with his homecoming
Rekita Lee hadn't seen her son for almost two years. When he came home unexpected, she got the surprise of a lifetime.
Her son, Tre'Vaughn Lee, a marine, had been deployed in Japan since August 2016.
Rekita didn't expect him to visit her for the holidays. She planned to visit him in Japan in October last year, but it didn't push through.
She described her feelings in an interview with ABC News.
"Tre'Vaugn has always been my rock so it was just very, very, very emotional," she said. "I literally thought I was going to have a heart attack. I couldn't breathe. I couldn't believe he's here."
Before making the surprise, Tre'Vaughn told his mother that he was going to an important training to a new location that would help advance his career as a Marine Corps. This wasn't true, of course.
He also told his mother that he might not have time for many phone calls because of the rigorous training he would be undergoing.
Tre'Vaughn told no one that he was going to make a surprise visit, not even his grandparents.
Because of the training that he had told her, Rekita went on with her daily life, not expecting to see her son for the holidays.
But one day, she came home to a pleasant surprise.When she saw her son inside the house, Rekita was overcome by joy and disbelief. She screamed and almost lost her balance.
An emotional scene ensued. She embraced her son tightly as tears streamed down her face.
"Her reaction was so much more than I thought," Tre'Vaughn said. "I expected crying, but I didn't expect the big scream."
Rekita was ecstatic that her son would be home with the family to celebrate Thanksgiving and stay through December 4.
"I just really, really needed that. It's been rough," she said.
Please fill in your e-mail so we can share with you our top stories!