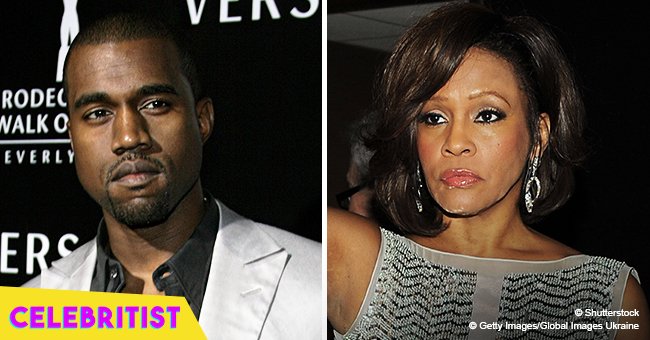 Whitney Houston's nephew comes out in support of Kanye West for using her drug-filled bathroom pic
Gary Michael Houston, who is the 31-year-old son of Whitney's older brother Michael, says he doesn't blame Kanye for using the photo of the late singer's bathroom, which is believed to show drug paraphernalia. Kanye used it for the album cover of Pusha T's new album.
Celebritist learned from "ABC" that 40-year-old Kanye West is the producer of Pusha's new album, Daytona, and also the one who paid to use the controversial photo for the cover. Kanye took to Twitter to announce the news.
"album 1 PUSHA T DAYTONA dropping 2mrw."
Houston says he understands where the musicians are coming from and their intent behind using the pic, which many say is in bad taste.
"People will automatically look to people like Pusha T and Kanye West and try to place blame or say they have ill or malicious intent to gain publicity. But I get it. I get the correlation (sans my aunt but the photo itself)."
He further states that they're artists and if they can afford to pay for the photo and use it to convey a certain message, then they are entitled to. Gary did say that if there's anyone people should be mad at, it would be the photographer who took the photo and sold it in the first place. It's believed Kanye paid to license the photo.
"If they can afford to pay someone for usage of that photograph in order to convey a visual message to accompany their musicianship…then so be it."
The picture first surfaced in 2006 on the cover of "National Enquirer". It's reported the photo was secretly taken by a family member of Whitney. The late singer struggled with drug addiction. Her body was found in a bathtub at The Beverly Hilton hotel in 2012 and her death ruled accidental drowning, with heart disease and cocaine use playing a part in her demise.
Gary's views are in stark contrast to that of Whitney's cousin Damon Elliott who told "People" he felt disgusted in the fact that Kanye used the photo to gain publicity.
"I immediately got sick to my stomach because it took me right back to six years ago. I was actually in shock because I'm in the music business. I've watched the train wreck happening, but I didn't think he'd go this far in invading someone's family privacy."
Do you think Kanye was thoughtless in using the photo for an album cover?
Please fill in your e-mail so we can share with you our top stories!