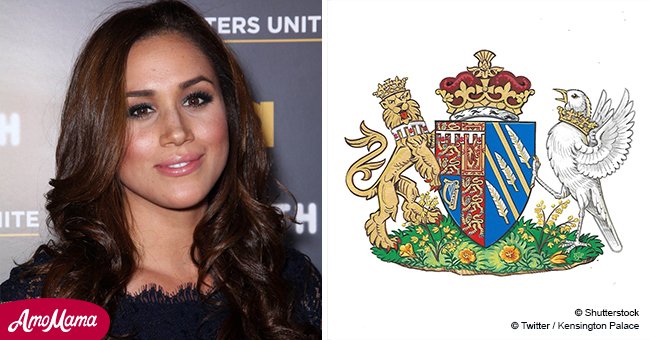 Why Meghan Markle's Coat of Arms proves she'll always be a Californian
The Duchess of Sussex Meghan received her Coat of Arms that is full of tradition and California charm.
The Royal family's official website, Royal.uk, shared the details of the Arms after it was unveiled on May 25, 2018.
Days after she tied the knot to Prince Harry, Meghan Markle received her Coat of Arms. The design was approved by Queen Elizabeth II and Thomas Woodcock, Garter King of Arms and Senior Herald in England.
The Duchess of Sussex is said to have worked closely in creating it and has included many elements that represent her home state of California, USA.
'Her Royal Highness worked closely with the College of Arms throughout the design process to create a Coat of Arms that was both personal and representative,' said the website.
The Coat of Arms is also filled with historic symbolism. According to the Palace, its blue background symbolizes the Pacific Ocean off the coast of California, while the two golden rays across the shield stand for Californian sunshine.
Beneath the shield is a bed of green grass with golden poppies and wintersweet, a tribute to California's state flower and to her new home in London respectively. The flowering plant grows at Kensington Palace.
There are three quills on the shield which represent communication and the power of words, a quality associated with the Duchess even before she married Harry. Many will recall her address at the United Nations on International Women's Day in 2015.
On the left side of the Coat of Arms is a lion and on the right side is a songbird, called the Supporters. The wife of a Royal family member features one of her husband's Supporter apart from her own.
The bird, with elevated wings and an open beak, again represents the power of communication.
The Duchess has been assigned a Coronet, which is a small crown. The Coronet is 'laid down by a Royal Warrant of 1917 for the sons and daughters of the Heir Apparent.'
Please fill in your e-mail so we can share with you our top stories!