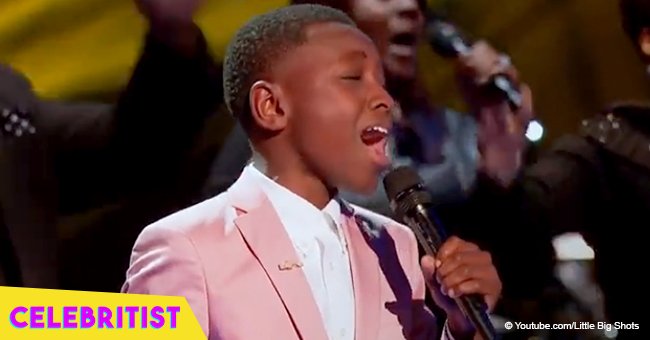 12-year-old gospel singer stuns audience with his powerful voice
Steve Havey's show "Little Big Shots" gives young, talented kids the opportunity to introduce their abilities to the world in a safe environment and without competitions. This 12-years-old gospel singer enchanted his audience on the season 3 premiere of the show a few weeks ago, and he's ready to take over the world.
Celebritist learned that Miles Caton, a 12-years-old boy from Brooklyn, recently left a live audience stunned with his singing talent when he made an incredible performance of Kurt Carr's "For Every Mountain." He knew exactly how to own the song as he led a choir in the NBC studio of "Little Big Shots."
But there's nothing little about Miles. The boy is the owner of a powerful, chilling-inducing voice that had everyone on their feet after he had just belted one note of the praising song.
Talking to Steve Harvey, Caton revealed that he has been singing since he was two-years-old and his passion for gospel music comes from the fact that he grew up in a religious family, as his grandfather is the pastor of his congregation.
Miles is used to be a leading voice at his church, where he guides the congregation through worship with his incredible and passionate singing abilities. However, "Little Big Shots" was not Miles' big break in the industry.
In fact, the boy was featured on Jay-Z's short film "4:44" last year. As you read it, Miles is actually the boy that makes the introduction of the video by singing some verses of Nina Simone's "Feeling Good."
Miles revealed on the show that he has been able to come this far thanks to his family, saying:
"I don't know what I would do without my family. They are very supportive, and encourage me in what I do."
And he also talked about the significance of his appearance on the show:
"I feel like 'Little Big Shots' is going to open doors for me. I'm just ready to get out there and just show the world what I got."
And he showed the world exactly what he's made of. Miles is now considered a star among his friends and we can't wait to see more of this young talented boy as he keeps on carving his own path in the gospel music.
You can watch Miles performance below:
What did you think about Miles' presentation?
Please fill in your e-mail so we can share with you our top stories!