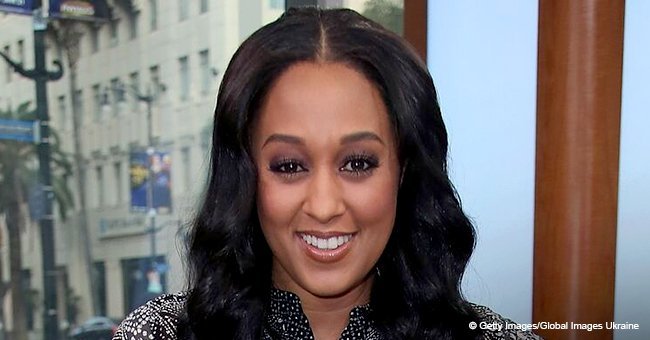 Tia Mowry gives sneak peek of newborn daughter in pink tutu

The reality mom teases fans with a glimpse of her baby girl while dealing with her post-pregnancy realities.
Tia Mowry-Hardrict welcomed a baby girl on May 5th and while many have been looking forward to her daughter's big introduction on social media, the 39-year-old mom finally released a sneak peek of her newborn this week.
The teaser pic she posted on her Instagram was in celebration of her reaching 5 million followers in her account and it featured her little girl's tiny hands resting on her body clad in a pink tutu.
Tia shares her brand new baby with her husband Cory Hardrict who's also the father of the television star's first son, Cree Taylor, 6
Since giving birth to her daughter whose name she has yet to reveal, Tia has updated her fans on her life two weeks after and she admitted
"I still look like I'm 4 months pregnant and that is OKAY."
She also empowered others not to try to live up to society's false expectations after birth and instead embrace their post-baby body without setting limitations to it.
"Ladies, it's okay that our bodies are not PERFECT after our babies are born. Give yourself time. Go at your own pace. Don't allow people to put a time limit on YOUR body. You've just accomplished a miracle! #Love yourself, love your new body, embrace it. It you want to make changes than that's your desire and no one else's. Ps, #moms freaking rock!"
In another post, she candidly revealed the reality of having no sleep when tending to a newborn and that also means not being picture ready, as compared to the Duchess of Cambridge who was glowing just a day after giving birth recently. In her caption she wrote,
"No #katemiddleton here. #teamnosleep #mom"
Fans can look forward to meeting Tia's daughter formally next month when she introduces her on her YouTube Channel, 'Tia Mowry's Quick Fix.
Please fill in your e-mail so we can share with you our top stories!