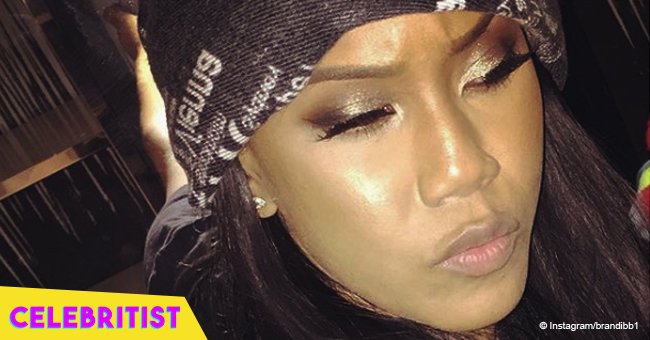 LHHH's Brandi Boyd gets slammed after revealing miscarriage in emotional video
How much is too much? Brandi Boyd of Love and Hip Hop Hollywood is finding out the hard way that posting about grief might not be the best thing to do. The former reality star opened up about losing her baby but most of her followers found it in bad taste.
Brandi Boyd, formerly of Love and Hip Hop Hollywood and a good friend of Brandy and Ray J, found herself on the receiving end of fans' criticism when she posted a video announcing that she and husband, producer Max Lux had suffered a miscarriage. Her message detailed the hopes they had.
"I thought keeping this pregnancy private would protect our baby from negativity and bad energy out there not wanting anything but positive energy good vibes and prayers going up. But today we lost our baby today the fight we didn't win and I will never loose faith in God no matter what but my spirit is broken my heart hurts so bad the physical pain is numb. All Gods children and mothers that have been through this you are not alone I wish this on no one . Our Baby was loved so much I was connected and so was our son praying and talking to my stomach everyday . Our Baby will never die in our heart . RIP Angel."
While some empathized, left a comment and moved on, others reminded her that not everything was meant for social media.
One commenter said; "I know exactly how you feel I also just suffered a miscarriage I am trying to stay strong but I never felt so alone and empty. May god cover you and your family" Another said; "I'm so sorry for y'all lost, my heart goes out to you and your family."
Those against her decision to post the video did not mince their words;
One: "my thing is how can your brain even fathom recording yourself crying at a time like this, I would be so hurt I can't even hold my damn phone."
Another: "when I hurting or in pain I'm not about to record myself crying sorry for her loss but I just feel this is a private moment for her and not the world."
Yet another: "Y do ppl feel the need to tell the world everything?? Thats a private moment that does not need to be on social media..."
Do you think it was right of her to post this video on social media?
Please fill in your e-mail so we can share with you our top stories!