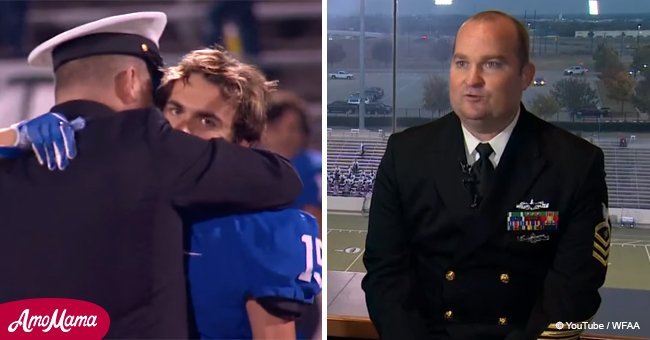 Boy convinced that military dad in another country when announcer asks him to turn around
The son was fully convinced that his father was away in another country, unable to witness one of the most important nights of his high school life.
A high school football game turned into a surprise reunion between father and son when Chief Petty Officer Danny Melton, who was deployed overseas for the last three years, walked out on the field for the final home game of his son, Jayce Melton.
According to WFAA, it was the final home game for Melton, who was a wide receiver for Midlothian Panthers, his high-school team, and the honorary caption of Midlothian's Senior Night.
Although most of his extended family was there to witness an important night of his life, he was fully convinced that his father was far away tending his duties in some other country.
The source revealed that Danny has missed many of his son's important high school moments because he was deployed in Italy for the last three years. But he was not going to miss one of the most crucial nights of Jayce's life.
Before walking out on the field, Danny let the cameras know that his son has no idea that he was going to be there for the game. He also admitted that he was just going to give his son a huge hug and tell him how proud he was of him.
On the field, Jayce's father was given a special mention on the scoreboard, where his photograph was displayed as the announcer told how Danny was serving the country while staying away from his home and his family.
Then the announcer suddenly asked the young footballer to turn around. When he did, he was taken aback by the sight of his father, walking toward him across the football field, in his uniform.
Jayce ran to his father as the duo took each other in a warm embrace. From the looks of it, Danny even passed a few words of wisdom before exiting the field.
Please fill in your e-mail so we can share with you our top stories!