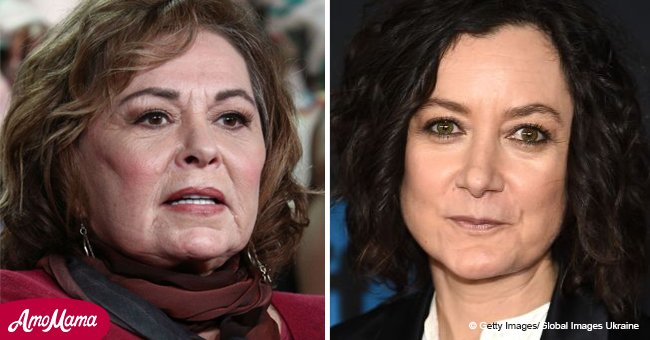 Roseanne Barr fires back at Sara Gilbert after her 'disappointment' comment
After Roseanne Barr's tweets about Valerie Jarrett, former co-star Sara Gilbert took to her social media account to say that she was disappointed in her actions.
On May 29, Gilbert, who took the role of Darlene Conner-Healy in both the original and the remake Roseanne, admitted that Barr's comments about Jarrett where 'abhorrent' and they don't reflect the beliefs of the cast and crew.
Finally, Gilbert pointed out that she was disappointed 'to say the least.' The following day, Barr wrote 'Wow! unreal' in response to Gilbert's tweet, which set clear that their relationship is damaged by the incident.
Barr has been backlashed since May 28, when she shared a message on her Twitter account saying that the Muslim Brotherhood and Planet of the Apes had a baby and it was former Barack Obama's advisor Valerie Jarrett.
Her comment was labeled as racist, what led ABC to cancel Roseanne. It is important to mention that most of the tweets that Barr has shared about that topic have been deleted.
Apart from Gilbert, Michael Fishman, who portrayed D.J. Conner in the series, also took to Twitter to blame Barr for her 'joke.' In a lengthy statement, Fishman said that he felt devastated.
He added that the series always wanted to show inclusiveness with the storylines created and that the words of one person (Barr) did not exemplify the way the entire crew thinks.
Fishman pointed out that sitting back and remaining silent in this situation would 'unintentionally endorse or placate' Barr's statements, which he condemned 'vehemently.'
Barr also responded to Fishman's tweet saying that she created the platform for the inclusivity he was talking about in his statement and finished saying that he 'threw her under the bus.'
So far, Barr has not said anything else regarding the problem. Even though many people accused her of racist, others have been defending her and showing support.
Please fill in your e-mail so we can share with you our top stories!