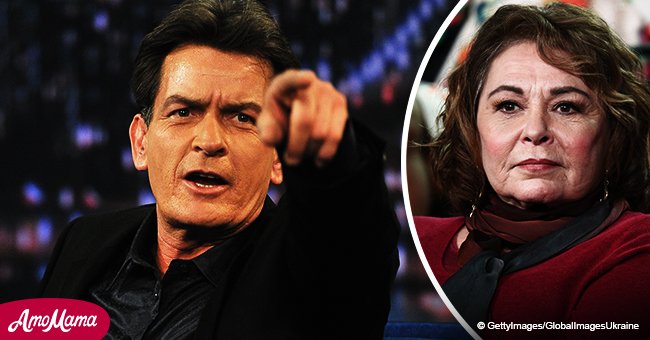 Charlie Sheen says 'Adios' to Roseanne Barr
Charlie Sheen took to Twitter to comment on the recent and surprising cancellation of Roseanne over its star and show creator's racist post, suggesting an opportunity for Two and a Half Men to return and fill the void.
The 52-year-old controversial actor jumped in the turmoil caused by the sudden cancellation of Roseanne by ABC executives, and, true to his style, he bid farewell to the show with no contemplations, as Pop Culture reported.
Sheen, who was expelled from Two and a Half Men in 2011 following a conflicting exchange of public comments between him and the series creator Chuck Lorre, and attacks from the actor to CBS and Warner Bros, is seeking his opportunity.
The actor posted a photo of a script from a Two and a Half Men's Season 2 episode called 'I Can't Afford Hyenas' and said that Roseanne's cancellation cleared the way for his popular character of Charlie Harper to come back.
'Adios Roseanne! good riddance. hashtag NOT Winning,' wrote Sheen, referencing his signature expression while having fun with Roseanne Barr's disgrace. Sheen closed his tweet with the hashtag #CharlieHarperReturns.
As unlikely as a return of Sheen's character might be, his remarks were exciting for his most devoted fans that replied to the tweet with approbatory expressions.
'We need Two and a Half Men to come back. Who's with me?' wrote a user. 'Roseanne is making Charlie look great again…[I'll] drink to a Charlie Harper return,' another one said. 'Tigerblood strikes back,' wrote another user.
Sheen's former co-star Jon Cryer who played the character of Allan Harper in all seasons of Two and a Half Men, replied sarcastically to Sheen's proposition simply asking himself: 'What could possibly go wrong?'
Sheen is not the only one trying to pitch his own reboot in the wake of the Roseanne scandal. According to Deadline, show creator Bryan Fuller also asked, however jokingly, for the return of Pushing daisies to replace the ABC show.
Please fill in your e-mail so we can share with you our top stories!