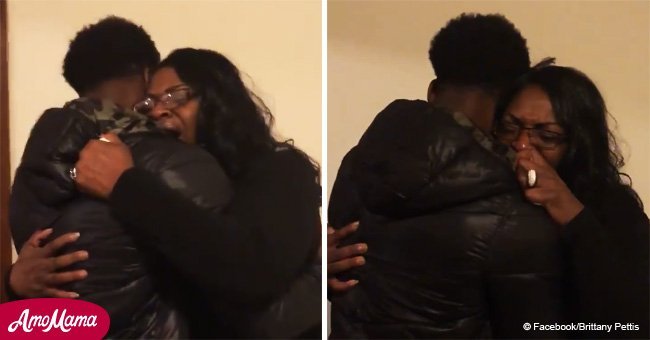 Mom can't hold back scream when she sees who returned to her home for Christmas
A son gave his mother the best Christmas gift when he returned after a two-year deployment.
Grant Jackson's sister, Brittany Pettis, posted the video of the reunion on Facebook and it has now gone viral.
Gwen Jackson thought she would spend another Christmas without her son, an airman who had been deployed to Japan for two years.
However, Grant decided to surprise her when he returned home for the holidays and her reaction is priceless.
Gwen is seen in the kitchen, standing with her back to the camera. Her sister enters the kitchen and says something to her.
The mother turns back to see what she was saying and at that moment, her daughter enters the kitchen with a camera in her hand.
She is heard saying, "What is all this?" It takes a few seconds for her to realize that there is a third person in the room and it was none other than her son, 21-year-old Grant Jackson.
Gwen starts screaming even as he walks slowly towards her. She is ecstatic and gets into a screaming fit jumping around in the kitchen and runs into an adjoining laundry room.
She continues screaming as Grant walks towards her cautiously into the dark room.
He stands just outside the room calling out for his mother, while she continues to just scream. He switches on the lights to find his mother unable to believe that he was back.
He then walks up to her and holds her in a tight embrace. It was a happy reunion for the two and the mother is seen crying tears of joy.
The rest of the video shows the mother and son hugging each other while she continues to cry.
The video has gone viral on Facebook with over six million views and more than 5,000 shares. It has also received reactions from more than 46,000 users.
Fox 13 reported that Grant grew up in Memphis. He attended Jackson State University for a year, before joining the military services. He is an E3 Airman 1st Class in the United States Air Force.
He was back from Okinawa, Japan, after nearly two years. He was working as an Aerospace Maintenance Tech.
Please fill in your e-mail so we can share with you our top stories!