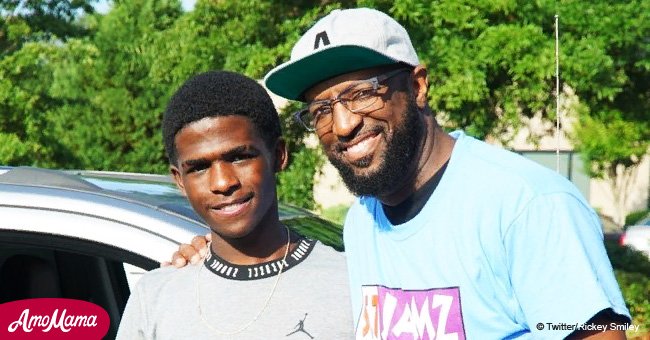 Teen gifted a car after viral photos showed him catching bus to graduation
Corey Patrick gained nationwide attention after he was photographed walking to his graduation.
WBRC reported that Patrick attended his graduation ceremony at the Tarrant High School, Texas, on May 17, 2018.
A picture is certainly worth a thousand words. Patrick's photo was captured by a MAX bus driver and it spoke volumes about the boy's determination.
Patrick was walking in his graduation gown while on the way to a bus stop. The photo quickly got the attention of thousands of people after he was posted online.
People who saw the photo admired his determination and many wanted to know if there was any way they could help the young man in the photo.
The photo was shared several thousand times on social media which finally led the young man to be identified as Corey Patrick, a 2018 graduate of Tarrant High School.
It was a proud moment for him and he decided to wear his gown while on the way to school. He said, "I was happy on that day."
His family did not have transportation nor could they not arrange for that day. However, he was determined to be present at the ceremony.
The young man's mother, Felicia White, said, "I told Corey, well the best thing to do is just get on the bus and we will walk from there." The family found a ride and made it.
Describing her son, she said, "He is a great young man." Patrick is quiet, reserved, and humble, though a little "hardheaded" at times. She added that he was an obedient child and that she is proud of him.
The mother also revealed that the walk was not anything new to the graduate. In fact, he had to walk throughout his senior year.
He said that he had to walk for the entire year as it was necessary.
After attending Tarrant City Schools since 4th grade, he had recently moved to West End. He wanted to finish his senior year with his friends and chose to continue in the school.
Patrick was up at 4:30 every morning to catch a bus at 5:41 a.m. Though he would finish school, he could only get on the bus at 5:19 p.m. when the bus would run back. This meant he reached home only at 6:30 or 7 every evening.
White believes that it was this perseverance of her son that touched the hearts of thousands of people online. The family is touched by the generosity of the community and the power of social media. She thanked everyone who supported Patrick and the family.
95.7 Jamz, a Birmingham radio station, announced that morning show host Rickey Smiley plans to gift the young man a vehicle.
Jamz Program Director Nu York said that Patrick was an inspiration to all and that his efforts must be recognized and praised.
Please fill in your e-mail so we can share with you our top stories!