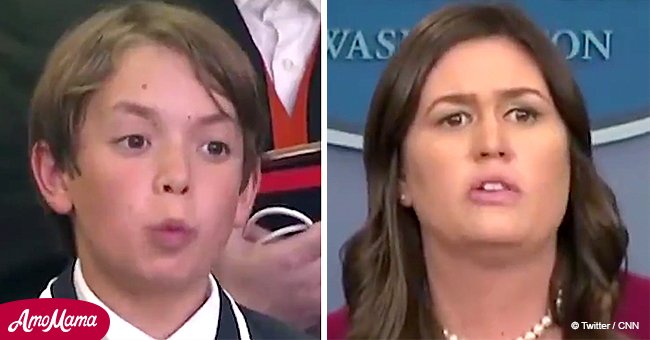 Sarah Sanders left choking back tears after boy asked simple question during press briefing
Sarah Huckabee Sanders, the White House Press Secretary, was almost brought to tears by a question made by a teenager regarding the recent school shootings.
It all took place on May 30, 2018. The young man, Benjamin Choucroun, was invited into the White House, along with his father, to cover Donald Trump's fitness event as a TIME for Kids reporter.
They were passing through the West Wing briefing room when Choucroun noticed that Sanders was about to start talking to the press. He certainly didn't imagine that his actions would end up being shared on social media.
After listening to her answering the reporters' questions, the young man was surprised to hear Sanders calling for him. Quite nervous, Choucroun took the opportunity to touch the sensitive subject.
"One thing that affects mine and other students' mental health is the worry about the fact that we or our friends could get shot at school. Specifically, can you tell me what the administration has done and will do to prevent these senseless tragedies?"
Benjamin Choucroun, CNN, May 30, 2018
The question caught Sanders off-guard, who did her best to keep her composure as she struggled to formulate an answer. Being a mother-of-three, the Press Secretary knew how important it was to address the issue.
Chocking up the tears, Sanders told Choucroun that children should not be afraid of going to school and that it was very scary for parents to see their children not feeling safe.
She continued by apologizing to the teenager for the lack of safety, adding that President Trump would meet the School Safety Commission this week to discuss the best ways to protect both students and teachers on school grounds.
School shootings have become an increasing concern since the beginning of 2018. So far, 23 shootings have taken place; Santa Fe High School and Marjory Stoneman Douglas High School were considered the deadliest attacks, with a total of 27 fatal victims combined.
Please fill in your e-mail so we can share with you our top stories!