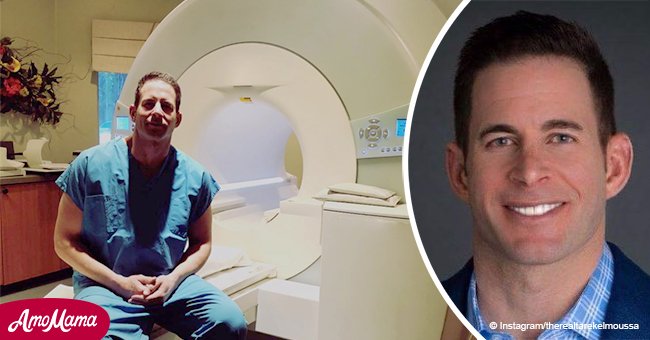 Tarek El Moussa wil look completely different on the new season of 'Flip or Flop' — here's why
The 36-year-old television personality and real estate investor, Tarek El Moussa, returned to the small screen this week. He warned fans that he would look different!
On Wednesday, he shared a comparison photo with his 278,000 Instagram followers. He asked them which picture they preferred: one was taken three years ago, the second image was taken in 2018.
In the caption, he explained that he suffered a back injury in 2015, and practically lived on pain pills. Personally, he prefers the 2018 photo as he appears much healthier.
According to Good Housekeeping, El Moussa has a rough five years behind him. Fans of his reality show, Flip or Flop, will recall that he was diagnosed with thyroid cancer in 2013.
His illness was worked into the storyline of Flip or Flop, but fans weren't aware that El Moussa was also diagnosed with testicular cancer.
He kept the diagnosis a secret and only went public with the news four years later. He broke the silence after his stepfather faced the same battle.
His back pain started in 2014. For two years, El Moussa lived on pain medication but eventually had surgery when the pain became unbearable.
In September 2017, El Moussa told his Instagram followers that he lost nearly 50 pounds while on medication for the back injury.
'Over the course of 10 months, I lost 50 pounds from all the pain meds which prevented me from wanting to eat, and I was nauseous all the time.'
Tarek El Moussa, Instagram, September 19, 2018.
He said his clothes didn't fit properly, and looking back, he realizes 'everything is possible with hope.' He wanted his followers to know that anything is possible, 'you just have to believe.'
The realtor confirmed this year that his cancer is in remission, and the latest photos shared to his Instagram profile is proof that healthy living pays off.
According to an article on HGTV's website, both El Moussa and his ex-wife are health-conscious. One of their homes even had a gym to allow them workout sessions between filming episodes.
Flip or Flop premiered in 2013 and is currently in its 8th season; the first episode, titled Flipping and Dating, aired on Thursday on HGTV.
Please fill in your e-mail so we can share with you our top stories!