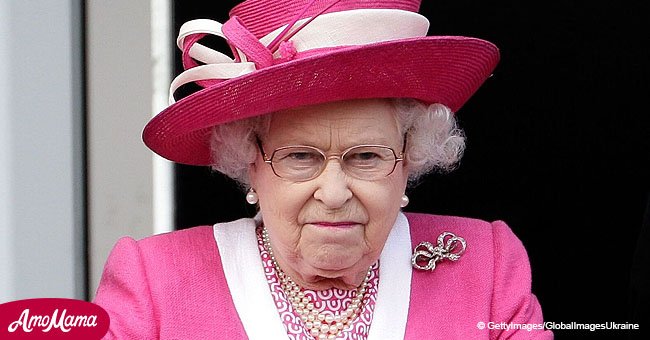 Queen Elizabeth II has previously unseen photo of Prince Harry and Meghan Markle in living room
Fans spotted a rare photo of Meghan and Harry in the background when Queen Elizabeth hosted a visitor at Buckingham Palace.
According to a People report, the Queen has a never-before-seen portrait of the couple displayed on a table in her living room in Buckingham Palace, showing that she is very proud of Prince Harry and her new granddaughter-in-law.
Royal follower spotted the picture in the background of the Queen's photo with Honorable George Brandis, the Australian High Commissioner to the U.K. The framed photo of the royal couple is placed next to other family photos on a small table.
In the portrait, Meghan and Harry are facing each other, with Meghan's arm resting on Harry's chest. The Duke is wearing a navy suit, while the Duchess is dressed in an elegant pale blue dress.
It is unclear where the picture was taken, but as reported by Hello magazine, it could be from a selection of the duke and duchess's engagement photos that were never released publicly.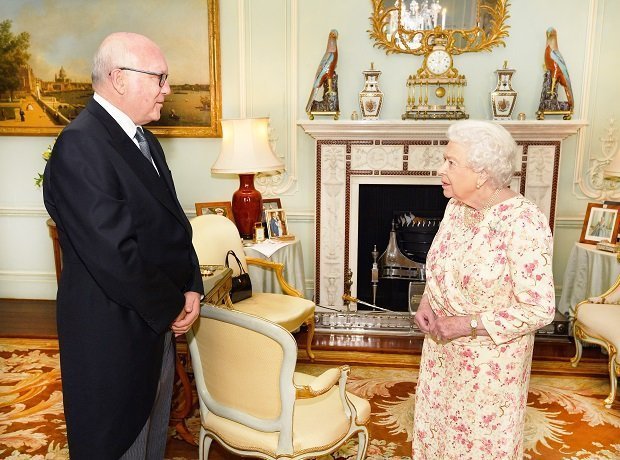 Source: Getty Images
Meghan has gotten along well with the Queen since the day they met. Doria Ragland, Meghan's mother, met the Queen for tea before her daughter wed Prince Harry on May 19 at St. George's Chapel on Windsor Castle.
The lovely picture placement is clear proof Queen Elizabeth keeps a special place in her heart for her beloved grandson, Prince Harry, and the beautiful Meghan, her new granddaughter-in-law.
The Duke and Duchess of Sussex are now on their honeymoon, but exactly where still remains a mystery. They have kept a private schedule since making their first post-wedding appearance at a Buckingham Palace garden party for Prince Charles on May 22.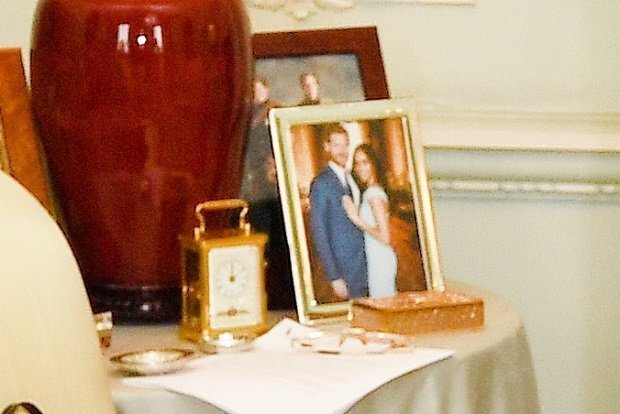 Source: Getty Images
The couple's next public appearance is expected to be for Queen Elizabeth's official birthday celebration, Trooping the Colour, on June 9.
According to News.com.au, the day will be a milestone for Meghan; she will make her first appearance on the balcony of Buckingham Palace as a member of Britain's royal family.
Please fill in your e-mail so we can share with you our top stories!