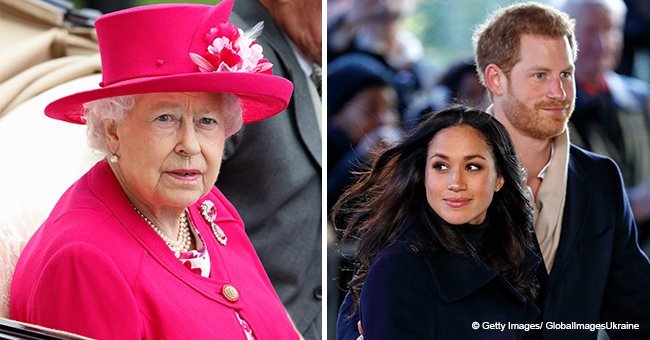 The Queen accidentally revealed never-before-seen picture of Prince Harry and Meghan Markle
The Queen had an official meeting at her residence. The photographers clicked a photo and also captured a framed picture of Prince Harry and Meghan Markle on a table behind the Queen.
The official Instagram handle of Buckingham Palace posted a photo of Queen Elizabeth II shaking hands with the Australian High Commissioner to the United Kingdom, George Brandis, on Wednesday.
Social media users spotted a framed photograph of the Duke and the Duchess of Sussex sitting on the side table beside the fireplace of the Queen's residence.
In the photograph, Markle's hand rested on Harry's chest as the couple posed in matching blue outfits. Markle wore a light blue dress while Harry had donned a navy blue suit.
It wasn't clear when the photo was taken but it was likely to be captured before the couple's grand wedding on May 19.
Markle and Harry have not been in the spotlight since they attended Prince Charle's garden party last week that was held in honor of Charles' 70th birthday.
The couple has flown away to their honeymoon at Alberta, Canada, and are staying at a 6000 sq. ft. Outlook Cabin in Fairmont Jasper Park Lodge
It is unclear when the couple will be returning from their honeymoon but when they do, a tight security will be involved during their arrival, as reported by Pop Culture.
As reported by People, an unconfirmed source made a statement that, though the Fairmont Jasper Park Lodge had a longstanding history of serving as a royal retreat, Markle and Harry were not booked for a honeymoon stay.
The heartthrobs' honeymoon was delayed so that they could attend Prince Charle's party. The Kensington Palace had clarified that, though the wedding was a public affair, the honeymoon will be treated as a private matter.
As reported by CNN, the Duchess of Sussex has been named one of the top 25 influential women working in Britain. Markle made her way into Vogue's inaugural Vogue 25 list alongside Amal Clooney and J. K. Rowling.
Please fill in your e-mail so we can share with you our top stories!