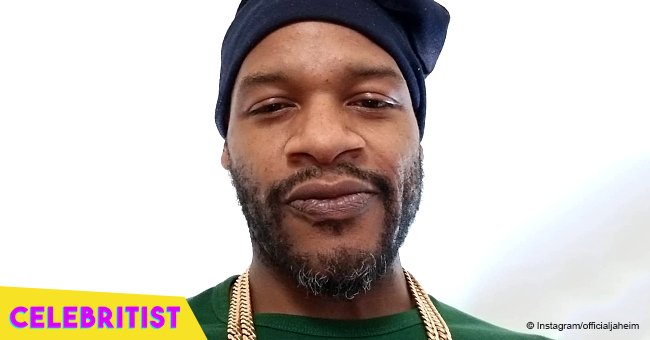 Jaheim melts hearts with photo of his grandbaby, showing their uncanny resemblance
Singer, songwriter, and producer Jaheim took to his Instagram account to share a photo of his grandson, Zyon Walker.
The image showed the baby looking directly at the camera. He looked like if he just had taken a nap as his eyes were slightly swollen. Zyon was wrapped in two blankets to keep him warm and comfortable.
Jaheim's caption was the best aspect of the post as he confessed that music was not the only 'rhythm' that made his heart beat. He added that Zyon was a gem from Heavens delivered to his family.
Apart from that, Jaheim pointed out that the baby would give 'pure joy' to them and that the first time he saw him, it was like seeing his own reflection, proving that Zyon and Jaheim's similarities are uncanny.
Finally, he confessed that even though the baby was too young, he had 'so much swag already.' One of Jaheim's Instagram followers, @sisterpamheaven, commented on the post saying that the baby had the singer's 'smirk' already.
Zyon is the son of Jaheim's daughter, Shemeka Foster, and he is the singer's first grandchild.
According to Wealtholino, Jaheim was born on May 26, 1978, in New Brunswick, New Jersey. Given the fact that his father passed away when he was three years old and that his mother died when he was seventeen, he grew up in public housing.
Jaheim's first album, Ghetto Love, was released in 2001. As reported by Billboard, it debuted at number 9 on the Billboard 200 and ended up being certified platinum by the RIAA selling a million copies in the United States.
His second album, Still Ghetto, was released in 2002. It was so successful that it was certified platinum, as well, for selling more than a million copies only in the U.S.
Jaheim's most recent album is titled Struggle Love and it was released in 2016. So far, he has sold more than 5 million records worldwide along with 3 Grammy nominations, reported This Is RnB.
Please fill in your e-mail so we can share with you our top stories!