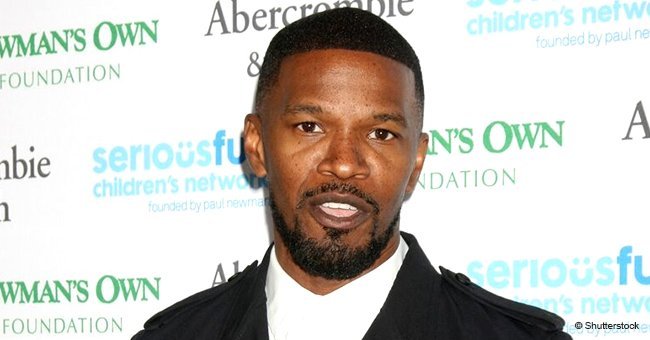 Jamie Foxx didn't approve of daughter's Coachella dress worn over her underwear
When the makeshift host of the chat show complimented the father-daughter duo on working together at the Coachella festival, Jamie Foxx looked a tad uncomfortable.
Oscar-winning actor Jamie Foxx joined his daughter, Corinne Foxx, on The Ellen DeGeneres Show, hosted by Kristen Bell, to promote their new show, Beat Shazam.
Bell, a mother of two herself, applauded the comfort shared by Foxx and Corinne when working together on multiple projects and shared that she could only dream about working with her children in the future.
She recalled the duo's collaborative performance at the Coachella festival on April 13. Foxx stumbled when he recalled the event because he was reminded of the skimpy outfit his daughter was wearing at the event
Corinne told Bell that her father did not approve of her outfit at the festival. Foxx jokingly added that the festival reminded him that his daughter had grown up, a fact that most father's dread.
At the event, the teenager walked on stage donning a black mesh dress over her underwear along with a black hat and a backpack.
Corinne believed that her dress was appropriate when compared to the clothes people usually wear at a Coachella festival. Her father stood by his opinion and said that the outfit was too much for a father to deal with.
Foxx had joined Corinne on stage with Kygo in April. He sported a casual plain T-shirt and denim jeans. He had loosely worn a tiger-striped jacket on top of his T-shirt and completed his look with cool shades and a brown hat.
As Bell presented a slideshow of pictures from the event on the large screen in the studio, Foxx showed that he was uncomfortable watching pictures of his daughter in skimpy clothes.
Bell chimed in and said that she understands both sides of the argument and decided not to take any sides in the discussion. Foxx joked that he hoped for the long dresses that reach the floor to make a comeback in the fashion industry.
After the jovial banter, Corinne explained to the audience about their show Beat Shazam. The show consists of three teams of two participants each who have to quickly identify song snippets sung by Corinne.
After eliminating two teams from the competition, the winning team battles with the song identifying app, Shazam. If the team identifies 6 songs in a row before the app, they win one million dollars.
The show first aired on Fox on May 25, 2017, and returned for its second season on May 29, 2018.
Please fill in your e-mail so we can share with you our top stories!