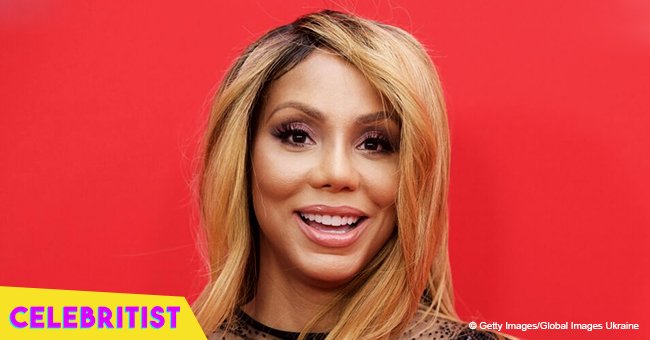 Tamar Braxton debuts purple hair amid Vincent Herbert divorce drama
Tamar Braxton showed off her newly colored hair, and her fans have been raving about it.
While she and estranged husband Vincent Herbert are in the middle of a divorce battle, the gorgeous mom shared her enthusiasm over her only son Logan turning five years old.
On Instagram, Braxton shared an adorable video using a rabbit filter, where she is singing and talking about being "perfection" for someone. In the clip, Tamar unveiled her purple hair color, far from her hot pink colored locks.
In a late mother's day post, the doting mom shared an adorably sweet message about raising her son the best way she can. In the caption of the video, Braxton shares how she makes sure to teach her sons morals and values that would lead him to his own path in the future.
"BEANS!!!! I take pride in being A 100%business woman and then come home to be a FULL TIME MOTHER!! It is MY responsibility to make sure I teach my son morals and values and to stay true to his OWN PATH!! I love my beans. he's a rockstar because I RAISED him to be one!!! Shout out to all my "SUPERWOMEN " Who know what I'm talking about!! If no one told you today I'm PROUD of you and I'm riding with y'all!! #everydayismothersday #beblessed p.s. he got mad cause i kept cutting him off"
Tamar and his son Logan have a very close relationship, and having him as a son has been the greatest gift of her life. Despite the pressures and demands of being a mother, the businesswoman shares how her son Logan has made it easy for her to work and be successful all while being a good mom to him.
"This AMAZING, Handsome, super smart, witty, yummy cheeks grabbing, give me a run for my money baby boy has given me the GREATEST gift in the world and that is to be his mother FOREVER! Im so grateful to God that he has allowed me to work, be successful but most of all be a REAL MOM!! There is no other gift I'm beyond grateful for!! I love you beans you are MY WHY"
Logan Vincent Herbert is the only child of Vincent Herbert and Tamar Braxton, born in 2013. The now-separated couple wed in 2008, and later on got a divorce in 2017.
Please fill in your e-mail so we can share with you our top stories!