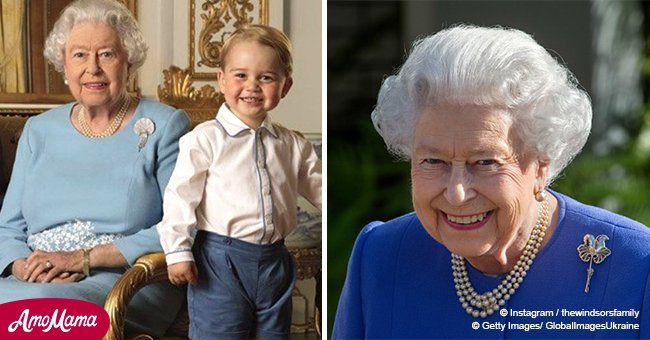 Little Prince George uses a sweet nickname for Queen Elizabeth
She is a figure of great respect and authority for a lot of people. But for little Prince George, she is just his doting great-grandmother.
A documentary titled Our Queen At Ninety revealed the special nickname that Prince George, son of Prince William and Kate Middleton, has for his doting great-grandmother, His Majesty Queen Elizabeth II.
Broadcasted on this year's Easter Sunday, the documentary incorporates candid interviews and opinions of several members of the Royal Family - in fact, more than any other Royal documentary ever made.
During the Duchess of Cambridge's interview about the Queen, one of the topics she talked about was Elizabeth's relationship with her great-grandchildren.
Speaking candidly, Middleton revealed during the talk that Prince George's chosen name for the Queen is 'Gan-Gan.' The Duchess further said that the children are used to getting gifts in their rooms every time they go to visit the Queen.
"George is only two-and-a-half and he calls her 'Gan-Gan.' She always leaves a little gift or something in their room when we go and stay and that just shows her love for her family," The Telegraph quoted Middleton as stating.
Middleton also shared how thrilled the Queen was at the time of Princess Charlotte's birth after knowing that the baby was a girl.
She further talked about how supportive Elizabeth is of her as well. Middleton shared that the Queen gave her valuable support during her time adjusting to being in the public eye, which she termed as a "gentle guidance."
The intimate documentary on the Queen took almost two years for the filmmakers to create. It covers a wide range of topics on Elizabeth portraying her as a family woman as well as a stateswoman. It focuses on the light-hearted side of Royal life.
Other members of the Royal Family also put forward their views about the Queen with Prince Charles describing his mother with the word, "steadfast."
Please fill in your e-mail so we can share with you our top stories!