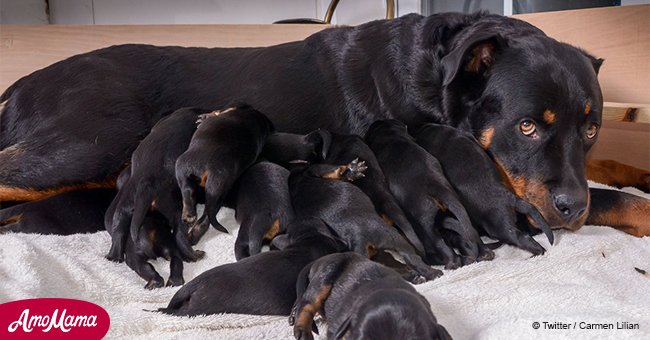 Two-year-old dog stunned owners after giving birth to fifteen puppies
A Rottweiler named Jessie made headlines by giving birth to one of Britain's largest litters with 15 little ones.
Metro reported that Ian and Eleanor Usher were surprised to see all the puppies at their home in Telford, Shropshire, on October 15, 2017.
Jessie, a two-year-old Rottweiler, welcomed Britain's second highest brood. Eleanor, 47, and her husband, Ian, 56, were left baffled as they were expecting five babies.
The dog had a big belly and the doctors advised that they should expect six to eight puppies. They did not take an ultrasound as the procedure was expensive.
Eleanor and Ian realized that Jessie became a 'fiercely independent' mother and did not let anyone else feed her litter.
All the newborns were seen cuddling up to one another at night and were feeding from their mother constantly one after the other.
The owners witnessed the mother giving birth, first from under the stairs and then in her bed. The process began on October 15 at around 1.50 a.m.
They rushed down to see her and then just watched Jessie giving birth to her babies.
"After the sixth puppy, I was saying: 'That's a good girl, you can stop now, you don't have to do anymore.' But they just kept coming and coming."
Eleanor Usher, Metro, October 22, 2017.
They did not have to worry about helping her in any way. But the couple was left wondering, "Oh my god, when is she going to stop?"
When she gave birth to the eleventh puppy, Eleanor and Ian started looking into the records. They found out that the highest in the UK was 18 while the second highest was 13.
She had just broken a record when she gave birth to her 15th puppy, but they had feared it would get as high as 20 at one point. However, it was all over by 8 in the morning.
Eleanor had names for the smallest and the biggest puppy – Daisy and Walter, respectively. She did not have names for the other because she felt they all looked "too similar."
Please fill in your e-mail so we can share with you our top stories!