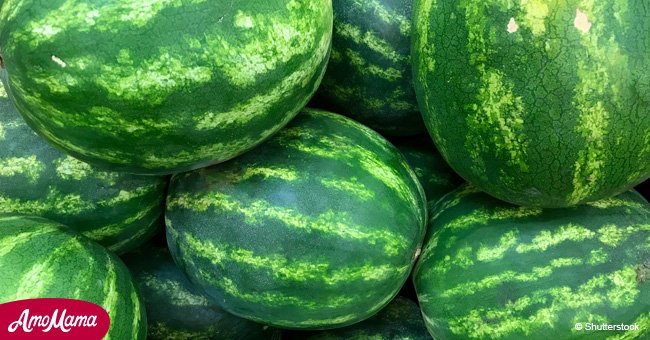 How to easily slice a large watermelon into 12 perfect slices in just seconds
Having realized how much of an irritation it is to try and cut the fruit, this company has come up with a device that alleviates that problem.
Cutting watermelon can be a pain. For the most part, people tend to cut them into half, and then quarters, until they are manageable slices that can be eaten in small pieces.
In a new video posted to YouTube, Tomodachi have come up with a lovely gadget that makes cutting the tricky fruit much easier.
The device, which looks similiar to much smaller models used to cut apples, features a thick plastic rim with a number of blades from the sides to the center. It also comes with a tray to capture the fruit's juices.
Also in the package is another sharp knife and a protective cover for it.
The woman in the video first uses the knife to cut the ends off the fruit to produce to flat edges to make it easier to cut the watermelon.
Then she placed it on one of those flat edges on the tray, before positioning the cutter over the top end of the watermelon.
Unfortunately, it takes quite a bit of strength to force the blades down through the thick rind of the fruit, and she had to move the entire operation onto the floor to get more leverage.
The move made all the difference, and the blades quickly sliced through the fruit, providing 12 perfect slices of watermelon, ready for eating!
Please fill in your e-mail so we can share with you our top stories!