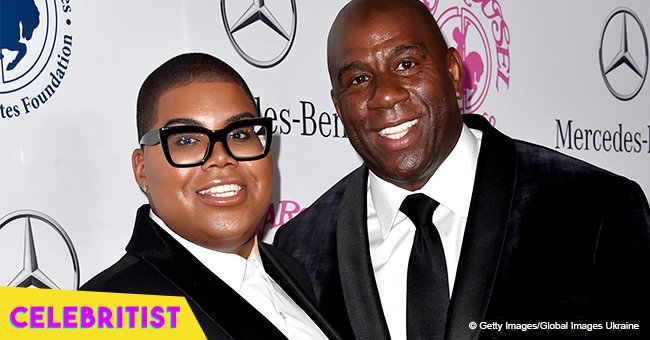 Magic Johnson shares nostalgic pic & sweet birthday message to 'amazing son' EJ
Magic Johnson is a proud father to his son EJ, and recently shared a sweet and touching message for him right on time for his birthday.
The basketball legend posted a sweet message for his son EJ Johnson's 26th birthday on Instagram just a few hours ago. According to the proud dad, his son EJ, who is openly gay, is "changing the world" by being his true self.
"Happy birthday to my amazing son @ejjohnson_ who is helping change the world. I am so proud of the person you have become. Continue to be your best self and walk in authenticity, passion, and ambition. I love you!"
In a previous interview with Ellen DeGeneres, Magic shared the importance of supporting your child's sexuality.
"I think it's all about you not trying to decide what your daughter or son should be or what you want them to become. It's all about loving them no matter who they are, what they decide to do. And when my son came out, I was so happy for him and happy for us as parents. We love him. EJ is amazing. So you got to support your child, because there are so many people who try to discriminate against them, so they need you to support them. Because if you don't support them, who is going to support them? And love them?"
EJ also received a sweet birthday message from his mom Cookie, who shared the importance of family while highlightening how beautiful her son looked in the photo she posted.
"My beautiful EJ @ejjohnson_Happy Birthday!!!! May God continue to bless you abundantly and create a path for you to affect change in a big way, love Mom!! #FamilyIsEverything"
EJ Johnson is the youngest son of Magic and Cookie Johnson, who was born on June 4, 1992. He has two siblings, one brother from Magic's previous relationship with Melissa Mitchell named Andre Johnson, and one sister whom his parents adopted in 1995, named Elisa Johnson.
Please fill in your e-mail so we can share with you our top stories!