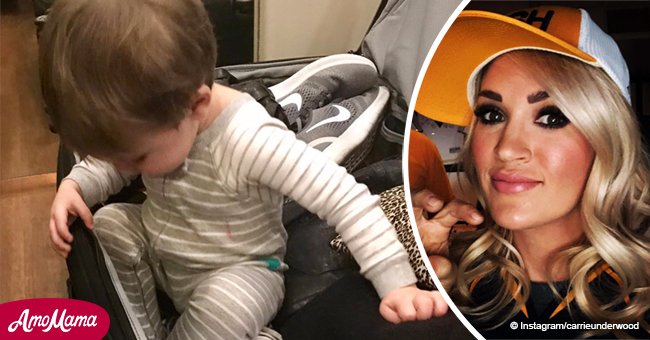 Meet Carrie Underwood's sweet 3-year-old son who she keeps out of the spotlight
The sweet little boy is already 3 years old, but the public doesn't know much about his life in private.
Carrie Underwood and Mike Fisher's son Isaiah has been kept out of the limelight as much as is possible for the child of two famous parents.
But every now and again the singer and her hockey player husband shared images of their precious little one to their social media accounts.
In one image, Underwood could be seen busy with her workout in a gym, with little Isaiah next to her, seemingly copying her movement in a squat!
The country singer captioned the shot: "My boys make work outs fun (and a bit less productive, but that's ok)! #StayThePath."
Other images on Underwood's Instagram that show her son include one video clip of the adorable little boy waving at passersby on a bridge in Nashville, and a funny clip of Isaiah trying to help his dad shave.
Underwood and Fisher married in 2010, and welcomed Isaiah, their only child, in 2015.
"I'm fortunate because I get to have my little guy with me," she told Today in 2016. "I was so concerned about going on tour and how it was all going to work. How am I going to be a mom? How am I going to do what I do? He's learned how to hang with us and keep up. It's been really wonderful having him out on the road."
Fisher also shares photos of the cute little boy from time to time, including one of himself, Carrie, his own mother, and Isaiah with him all dressed for work in his hockey uniform.
Underwood also shared that her son was a great source of support following her accident in the fall. As had tripped down the stairs in their home, and her injuries included a broken wrist and a nasty gash on her face requiring 40 stitches.
"This morning, Melissa, my hair and makeup artist, was starting to put my makeup on and he's all in his pajamas and he said, 'No, don't do that!'" she recently told People. "I was like, 'Why, baby, why are you upset?' And he said, 'I like you just how you are.'"
Isaiah also spends plenty of time cheering on his dad at the Nashville Predators' games, something Underwood hopes he will remember as he grows older in light of Fisher's recent retirement.
Please fill in your e-mail so we can share with you our top stories!