Little girl bursts into tears seeing donor who saved her life standing on the doorstep
Three years after a stranger saved the life of a little girl by donating his bone marrow the two finally had the chance to meet each other. Things got emotional when she met her savior.
When Adriana Aviles, from Utah, was 4 years old she was diagnosed with leukemia. Her only choice to survive was to find a bone marrow donor, and her opportunity came when Mike Laureano signed up to a donor list.
As Inside Edition reported, the now 29-year-old decided to become a donor after a drive at his university made him aware of the needs of many patients whose lives depended on the kindness of others.
Laureano joined Be The Match, and his decision soon gave Aviles a second chance to live. The transplant was successful and Aviles was healthy once again. A year later, Laureano was allowed to connect with the person he helped.
It was the mother Jessy Aviles' call, though, and she took her time before she felt Adriana was ready to meet her generous donor. As Caters reported, she chose 2018's Mother's Day to set the meeting.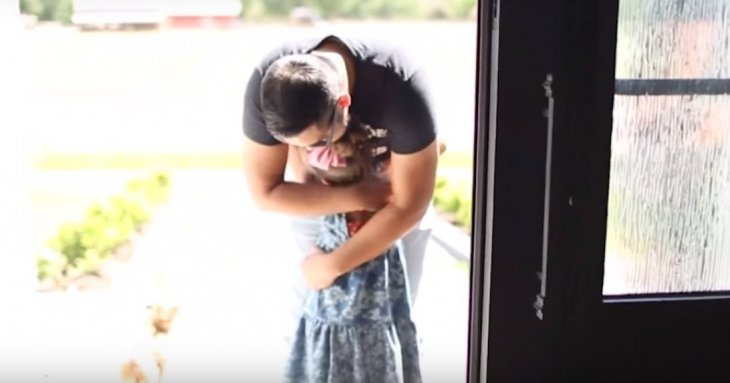 As soon as Adriana, now 7 years old, saw Laureano arrive at her home, she burst into tears, as Caters caught in footage shared on their Youtube account. Adriana and her mother opened the door to Laureano and the girl gave him a tight hug.
'Thank you so much,' Adriana told Laureano. 'Adri might only be 7 years old, but her heart and mind are wise — she knows how incredible this gift of life was,' said Jessy.
'Within seconds of him arriving, she was in his arms thanking him for saving her life, which is where she stayed for the entire evening,' the mother added
Laureano is happy that he could make such a big difference in this entire family's life, and he humbly expressed that it was only 'the right thing' for him to do.
'I was a healthy individual living my life, so if I could help allow someone else to do the same then I, as a human being, have an obligation to do so,' he said. Read more on our Twitter account @amomama_usa